A cash advance helps you get through your financial emergencies. Cash advances have become very popular as they can be easily obtained without a credit check and are fast to process. You just have to submit an easy application form online and money is deposited directly in your bank account once it is approved.
Despite the popularity and demand of cash advances, there are situations when applying for a cash advance is not the ideal option. So it is important for you to identify those situations where getting cash advance becomes necessary and where it should be avoided.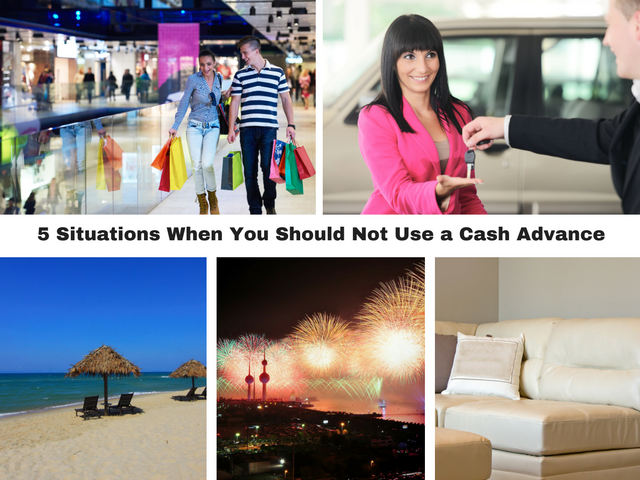 Let's take a look at some of the situations when you should not use a cash advance:
Impulsive Shopping

If you are in a habit of impulsive shopping, getting cash advances for buying the latest and trendy items should be avoided. Restrain yourself from visiting malls or stores having sales or discounts that attract impulsive spenders.

Purchasing a New Car

Buying a new car is considered a large investment and it takes longer to pay off than other purchases. Applying for a cash advance is not ideal in this situation as cash advances are usually for short term.

Organizing Expensive Parties

Getting a cash advance to organize an expensive party is not a wise decision. Borrowing money just to impress others is not advisable. You should plan a party within your budget. Host a potluck or use other ways to cut party costs.

Buying Furniture or Remodeling Projects

Buying new furniture or remodeling projects are not emergencies, so getting a cash advance is not recommended as it is meant to cover emergencies until the next paycheck. You can wait until payday to get new furniture or remodeling projects.

Going on Luxurious Vacations

If you are thinking of getting a cash advance to go on long and expensive vacations, it is not advisable. You can plan for short getaways or nearby adventures if you have a limited budget.
This doesn't mean that cash advances are useless. They are really helpful in situations where you need immediate cash for your medical bills, car repairs or utility bills. You just have to use them wisely.
Post May You Also Like: