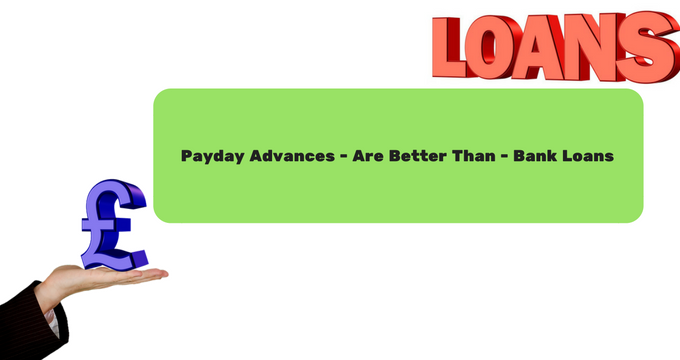 Everybody needs cash that they simply don't have in their checking or savings account from time to time. Whether you've got a good salary and a job that you've had for years, or you've just started a new job, being a little short of cash isn't something to be embarrassed about.
However, you do need to remedy the problem and get yourself back in the black, especially if you're taking care of kids and a family. When it's time to do that, your only real options are bank loans and payday advances.
Keep reading to learn more about why payday advances are often a much better solution than traditional bank loans for people who need some fast cash:
Get Cash Fast When you're in need of cash, waiting a month for the bank to approve your loan isn't going to do you a lot of good. By then, the bill you need to pay is probably delinquent anyway. If you were trying to pay rent, you might have been forced to move already.
The problem is that bank loans take so long because of the bureaucracy and all of the hands that need to sign off. When you choose a payday loan instead, you can get your cash the same day in many cases.
When you need cash quickly, payday advances are really a better option than borrowing from a bank.
Smaller Loan Amounts Most people who think of bank loans imagine mortgage or business loans. These are typically for thousands and hundreds of thousands of dollars. Of course it makes sense that these loans take a long time to process.
When you're just in need of a little bit of cash to get you to your next paycheck, you don't want to be thinking about borrowing thousands of dollars and having to pay it back with interest.
Get the small amount of cash you need quickly withdraw a payday advance and get back to your life and work, so you can repay the loan in a timely fashion.
No Credit Check and Collateral Unlike bank loans, you don't have to go through a credit check and put up any collateral for getting payday advances. You can get a payday advance even if you have a bad credit history and banks have rejected your loan requests.
You just have to show that you are employed and have a steady source of income to qualify for payday advances. Your lender will just check your ability to pay back the loan the next payday. Get the cash you need regardless of your credit history through payday advances!
Post May You Like: