Soft credit check loans have lower rates and fees which help you save money and avoid defaulting on loans. Those who cannot apply for traditional bank loans due to their credit scores can apply for soft credit check online payday loans.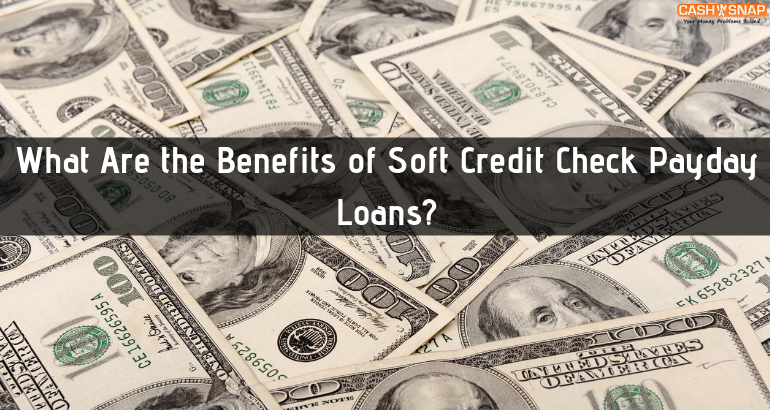 These loans have many benefits for borrowers, which include:
1. Easy to Apply and Processed Fast
Applying for online payday loans is easy and secure. You have to complete the online loan application by filling out all the required details. You will be informed about your loan approval status within a few minutes. Once approved, you will receive your funds into your account the next business day. Unlike traditional bank loans, you do not need to wait for several days for your loan to be processed.
2. Your Credit Score Wouldn't Be Affected
A traditional lender requires a full copy of your credit report to run a hard credit check. They may record the hard checks on your report, which can temporarily lower your credit score. On the other hand, a soft credit check would not affect your credit score, as they are not recorded. Soft credit checks require less information than hard credit checks, and your lender would not rely on your credit score to process your loan application.
3. Bad Credit Score Is Not a Constraint
Borrowers with bad credit scores cannot apply for traditional bank loans but can apply for soft credit check loans as bad credit score does not affect your eligibility to get these loans.
4. Your Repayment Ability Is Checked
When you take a loan, you have to repay it on time. Otherwise, your loan gets turned over to a debt collector who will contact you for payments. Also, defaulting on loans can affect your credit score. However, soft credit check lenders will not lend money to someone who cannot pay back the amount on time. They check the repayment ability. This is why these loans are considered safe for borrowers, as they do not have to fall behind on payments.
5. Help in Improving Your Credit Score
Some soft credit check loan lenders will submit your payment details to the credit bureaus that are responsible for creating your credit reports. If you make payments on time, it will be entered on your credit report, which can improve your credit score.
Looking for soft credit check online payday loans? Apply now!