When you are short of cash and need to borrow, there are alternatives to conventional bank loans. Payday loans and prepaid debit card loans provide quick convenience without a credit check. But you should consider the differences before making a decision.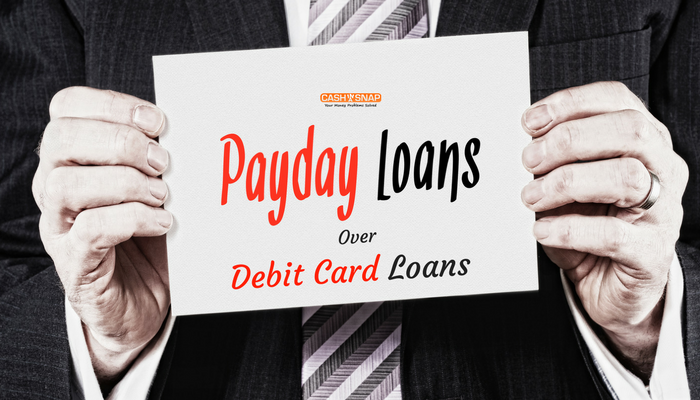 Drawbacks of Prepaid Debit Card Loans
Hidden Service Charges: Even if you are able to avoid interest on prepaid debit card loans, you still have to pay a card service fee instead. These charges are hidden in masterfully crafted language which you may overlook at the time of borrowing; you could end up paying more than you expected.
High Cost: If you are going on with a fee included debit card, it may cost you a lot. Interest can total over 1000% APR after all fees, depending on your state of residence.
Usually Takes a Lot of Time: After applying online or in a store, and if approved, the loan amount is transferred into an eligible loan account by your lender. After that, you'll typically register the card in your name either in person, on phone or online. After that, the card is handed over to you in person or by mailing it to your home.
Benefits of Payday Loans
Less Rigid: Payday loans, by contrast, are actual loans and less rigid in terms, as long as you develop a clear payback plan. These loans are meant for times when you need cash between paychecks for whatever reason, whether it's to pay for an emergency, school books, car repairs, holiday gifts or your own weekend getaway vacation.
Takes No Time: The cash advance is commonly issued within 1 business day of applying for the loan online. As long as you have a steady income from employment, you have a good chance of getting approved, regardless of your credit score.
Can Qualify for Higher Amount: It's your income level and your state laws that determine how much you can borrow. However, once you pay back your payday loan on time, your lender may increase your loan limit gradually up to a level of $1000 or more.
Conclusion
When it's about handling your financial emergencies, payday loans can be your best bet. It takes up to a day to get the money transferred in your account and requires no collateral or high credit score. Because you're lent according to your income, you won't run the risk of falling into long-term debt. Get your payday loan
here
!

Also Read: Online Payday Loans: An Instant Boon For Borrowers
Also Read: 5 Tips to Pay Back Your Payday Loans on Time