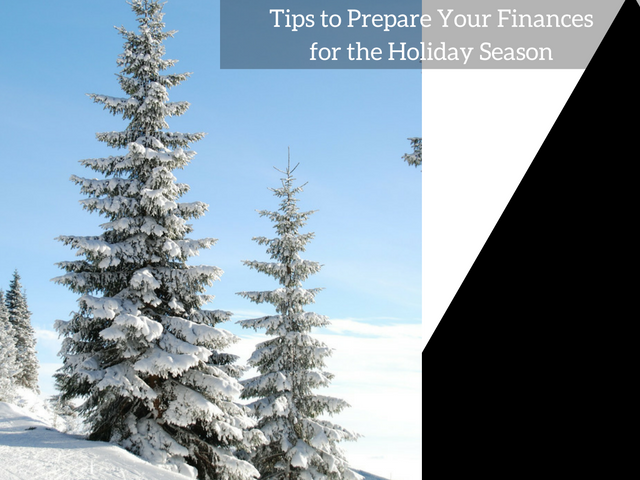 Christmas is around the corner and it's no doubt that it's the most wonderful time of the year. It's also the season of gift-giving, parties and vacations which can make this holiday season more overwhelming if you are on a tight budget. However, you can reduce this stress and prepare well for the holiday season by following some simple tips. Put together a plan so you can be in good financial shape before the festivities begin.
Here are 7 tips to prepare your finances for the holiday season:
Make a Budget

First, check your existing budget and then set a spending budget for the holiday season. Budget carefully for gifts or parties. Decide how much you want to spend on gifts for each person. The more organized and detailed you are, the better!

Reduce Spending

Slash spending on other unnecessary things temporarily while you are saving for the holidays. Cut down on dining at restaurants, movie theater visits, and useless subscriptions and allocate that money to your holiday budget.

Cash Your Credit Card Rewards

If you have cash rewards in your credit card account, cash them in and use them for the holiday shopping. This way you can spend more by staying within your budget. You can shop through cash-back reward sites to earn more rewards for your purchases.

Sell Your Unwanted Items

An interesting way to contribute to your holiday budget! Get some extra cash by selling your unwanted items online or in secondhand shops. Sell your worn clothes, unused electronics or gifts and use that money for holiday expenses.

Stay Notified about Sales

Sign up for sales newsletters with your favorite stores to know about any discounts or offers. Get early access and take full advantage of the discounted period. Keep scanning sites like Groupon or Amazon for more discounts.

Avoid Stressful Shopping

Buy things well in advance to avoid the crowds and stress. Shopping on a deadline or in stress can lead to wrong purchasing decisions. You tend to make smart decisions when there is no stress or chaos around you.

Get Crafty

Homemade gifts help you get in the giving spirit without affecting your budget. Use your skills to create your own Christmas gifts. Start creating as soon as possible if it's a long-term craft like knitting or quilt making.
Use these tips to prepare yourself financially so you can get through the holiday season without breaking the bank.