What Are Online Cash Advance Loans?
Online cash advance loans are short-term loans similar to what many people call payday loans, but cash advance loans don't always require a single repayment on payday. You can often pay back the amount in one or two repayments.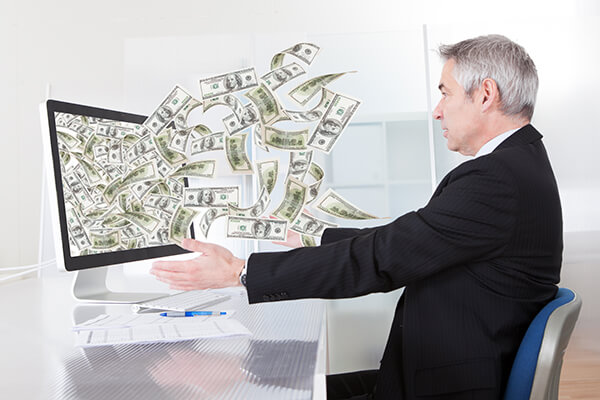 In a recent government report, more than half of all Americans do not have any real cash reserve for emergency situations and cash advance loans online are a life saver in times of urgent need. However, remember the fees for these short-term quick cash loans are high and the fees for paying late, i.e. rolling over your online cash advance loan, make them very expensive. So, if you are not sure that you can pay it back on your next payday then getting a cash advance loan is not a good idea.
We perform a soft credit check that will not hurt your credit score
What All Do I Need to Get a Fast Cash Advance Loan Online?
Online cash advance loans can be requested for and approved on the internet in a couple of minutes. This makes it fast and easy to request and quick to determine if you are approved. The basic requirements to get quick approval for these fast cash loans online include:
You need to be a U.S citizen or a permanent resident
You should be 18 years old or above
You should have a verifiable income
You will need a valid ID and your social security ID
Advantages of Online Cash Advance Loans
An online cash advance is a short-term advance of a small amount. It is intended to provide a solution to your cash flow problems. Here are some benefits of an online cash advance loan:
Easy and convenient access to a fast cash advance
Freedom from lengthy formalities saving you lots of time and anxiety
Secure and fast cash advances
Have cash within 24 hours in your bank account (min. of 1 business day)
Safe, secure and speedy transactions
No more creditor harassment
Completely Confidential and Secure
How soon can I get my online payday cash advance?
You can complete your cash advance loan request online in less than 3 minutes and you will be contacted shortly after submission. If approved, your money will be put in your bank account, usually the next business day. Ask your lender when you will have your loan in your bank account.
How much can I borrow through online cash advance loan?
You can borrow up to $1,000 on a payday loan but most cash advance payday loans are for around $500 or less. The amount of your cash advance depends on several factors and will vary from state to state. Want to know what amount you're eligible for? Pick what you need and fill out our simple online payday loan request form. The sooner you request your cash advance the sooner you can get the cash you need.
How an Instant Cash Advance Loan Works
Step 1. Fill Out an Online Loan Request Form
You begin your fast loan process by simply filling out a loan request form for your online cash advance.
Not sure if this is right for you? That is okay, it costs nothing to request and you get an answer quickly. Even if you are rejected you may be approved a week later as lenders change their loan criteria all the time. Often they accept an instant loan request this week that they rejected last week. Come back and re-request if you still need the cash.
Step 2. Get Connected to a Suitable Lender
We connect you to our vast network of reputable cash advance lenders to find a lender who wants to loan to you. You can start by requesting a loan now.
Step 3. Secure Your Documents
You select your cash advance loan amount and directly sign your loan documents online. You can request instantly for cash advance loans starting from $100 to $1,000.00.
Step 4. Choose the Cash Option
We use the most advanced and secure SSL encryption technology to protect your privacy.
Step 5. Loan Repayment
Your loan fees and the principal amount may be automatically withdrawn from your checking account on the due date, ask your lender about all your terms and conditions.
Does everyone get approved?
You may have heard you can have bad credit and get a cash advance payday loan. This is true but there are many factors in getting approved. Cash advance payday loans are even given to those who have recently filed bankruptcy. Most importantly, you must be over 18 in most states, 21 in some, and have a steady job for at least the last 3-6 months depending on the state you live in. These rules change over time so ask your lender about conditions specific to your circumstances.
They are legitimate lenders that provide cash advance payday loans to people looking for instant payday loans to handle an emergency before their next paycheck. All lenders must tell you what you will pay and when it is due BEFORE you sign anything. It is solely your decision. Ask all the questions you want before signing any documents.
Our cash advance payday loan lenders aren't interested in your past as much as your ability to pay back your loan on the scheduled date.
Not sure if this is right for you? That's okay, it costs nothing to request and you get an answer quickly. Even if you are rejected you may be approved a week later as lenders change their loan criteria all the time. Come back and re-request if you still need the cash.
Applying for a Cash Advance Loan Online from CashinaSnap
CashinaSnap offers a convenient online cash advance loan request process and helps people get back on their feet. If you are looking for "online cash advance loans same day near me" don't waste your time or be embarrassed at a local establishment. Stay home and try our completely online cash advance loan request process 24/7.
FAQs:
Can I get a cash advance online?
Yes, you can get Cash Advance Loans Online from CashinaSnap.
Can you get a cash advance loan from CashinaSnap?
Yes! CashinaSnap can give you access to fast, online cash advance loans that can help you cover a financial emergency, unexpected medical bill, or whatever else life throws your way.
With CashinaSnap, you can borrow up to $1,000 and usually get the cash in one business day.
Here's how it works:
Apply online: After you provide some basic info, we will let you know if you're approved in just seconds.
Choose your loan amount: Tell us how much you want to borrow by selecting from the dropdown menu when completing your loan request.

Our loan amounts range from $50 to $1,000 depending on your state of residence.

Receive funds: Applications processed and approved are typically funded electronically the next business day.
Why should you choose CashinaSnap for an online cash advance?
There are many online cash advance lenders, but CashinaSnap is different. In addition to a simple online application process and cash in your account as soon as tomorrow, we also empower you to create a better financial future by providing information to help you improve your financial status.
Could a cash advance loan online from CashinaSnap be a good option for me?
An online cash advance loan from CashinaSnap could be a good choice for you if you need emergency cash and have exhausted all other traditional loan options.
How do I apply for a cash advance loan?
We have simplified the online cash advance loan application process to make it fast, secure, and easy for you to apply for the cash advance you need. In fact, you can complete the application online in 2-5 minutes and get a decision in seconds.
Make sure you have your Social Security number, source of income, and banking information handy while completing the application.
How many Payday Loans can I have at once?
In most states, an individual can only have one Payday Loan at any time. To learn about what options are available in your state, visit your state's website and review the current regulations.
Can I get a Payday Loan with no credit check and bad credit?
CashinaSnap accepts loan request from consumers with all types of credit. Credit is not the primary factor when direct lenders review your loan request. In fact, your current and upcoming income are far more important. There are no hard credit checks done when requesting a cash advance loan with CashinaSnap. Same day cash advance with no hard credit checks are also possible depending on where you live and what time of day you request your loan (must be early morning).
Is my credit score checked or impacted when applying for a Payday Loan?
When reviewing your Payday Loan application, we may evaluate your credit eligibility by receiving information from third-party data sources, often called soft credit checks. These types of checks have no impact on your credit scores and are not reported to the credit bureaus. You can get a cash advance no hard credit check right here.
Are all Cash Advance Loans guaranteed?
Payday Loan approvals are never guaranteed, and you should avoid websites that promise a loan. We work hard to have an 80% approval rate for all loan requests, but we cannot guarantee a cash advance loan.
How and when will I know my loan has been approved?
As soon as you complete your loan request and submit it, our systems will get you an answer in 5 to 60 seconds, but never more than 90 seconds. You will know your answer right away. If approved, you will be connected with your direct lender and should plan 10-15 minutes to review your terms and conditions and ask any questions you may have…before accepting the loan.
Relevant Resources:
Fast Cash Advance Loans: Things You Should Know​
Cash Advances: How They Help in Your Financial Crisis
How Do You Request for a Cash Advance Online?
Instant Cash Advances Keep You Out of Financial Glitches
Why You Should Prefer Cash Advance Lenders Online