Online cash advance loans may help people experiencing a financial crisis. In a recent government report, more than half of all citizens do not have any real cash reserve for emergency situations and cash advance loans may a savior in a time of urgent need. Cash In A Snap offers a convenient online payday loan request process and helps people get back on their feet. If you are looking for "online cash advance loans same day near me" don't waste your time or be embarrassed at a local establishment. Stay home and try our completely online and secure payday loan request process.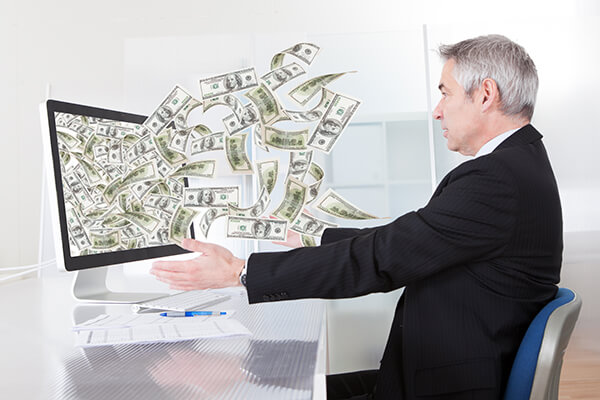 First of all, payday loans are not for everyone. The fees for these short-term loans are high and the fees for paying late, i.e. rolling over your loan, make them very expensive. If you are not sure you can pay it back on your next payday then getting a payday loan should probably not be done.
Online cash advance payday loans can be applied for and approved on the internet instantly. This makes it fast and easy to request and quick to determine if you were approved. But, allow 1 business day to get the money. Do not expect to get your funds on a weekend or holiday.
How soon can I get my Online Payday Cash Advance?
You can complete your Cash Advance loan request online in less than 3 minutes and you will be contacted shortly after submission. If approved, your money will be put in your bank account, usually the next business day. Ask your lender when you will have your loan in your bank account.
Advantages of online cash advances
An online cash advance is a short-term advance of a small amount. It is intended to provide a solution to your cash flow problem. Here are some benefits of an online cash advance loan:

Easy and convenient access to fast cash advance

Freedom from lengthy formalities saving you lots of time and anxiety

Secure and fast cash advances

Have cash within 24 hours in your bank account (min. of one business day)

Safe, secure and speedy transactions

No more creditor harassment

Completely Confidential and Secure
How much can I borrow through Online Cash Advance loan?
Normally you can borrow up to $1,000+ on a payday loan but most cash advance payday loans are for around $500 or less. The amount of your cash advance depends on several factors and will vary from state to state. Want to know what amount you're eligible for? Pick what you need and fill out our simple online payday loan request form. The sooner you request for a cash advance the sooner you can get the cash you need.
How an Instant Cash Advance Loan Works
Step 1. Fill Out an Online Loan Request Form
You begin your fast loan process by simply filling out a loan request form for your online cash advance.
Not sure if this is right for you? That is okay, it costs nothing to request and you get an answer quickly. Even if you are rejected you may be approved a week later as lenders change their loan criteria all the time. Often they accept an loan request this week that they rejected last week. Come back and reapply if you still need the cash.
Step 2. Get Connected to a Suitable Lender
You connect you to our vast network of reputable cash advance lenders to find a lender who wants to loan to you. You can contact us by applying now.
Step 3. Secure Your Documents
You select your cash advance loan amount and directly sign your loan documents online. You can request instantly for cash advance loans starting from $100 to $1,000.00 or more.
Step 4. Choose the Cash Option
We use the most advanced and secure internet encryption technology to protect your privacy.
Step 5. Loan Repayment
Your loan fees and the principal amount may be automatically withdrawn from your checking account on the due date, ask your lender about all your terms and conditions.
Does everyone get approved? No.
You may have heard you can have bad credit and get a cash advance payday loan. This is true but there are many factors in getting approved. Cash advance payday loans are even given to those who have recently filed bankruptcy. Most importantly, you must be over 18 in most states, 21 in some, and have a steady job for at least the last 3-6 months depending on the state you live in. These rules change over time so ask your lender about conditions specific to your circumstances.
They are legitimate lenders that provide cash advance payday loans to people looking for instant payday loans to handle an emergency before they get their next paycheck. All lenders must tell you what you will pay and when it is due BEFORE you sign anything. It is solely your decision. Ask all the questions you want before signing any documents.
Our cash advance payday loan lenders aren't interested in your past as much as your ability to pay back your loan on the scheduled date.
Not sure if this is right for you? That's okay, it costs nothing to request and you get an answer quickly. Even if you are rejected you may be approved a week later as lenders change their loan criteria all the time. Come back and re-apply if you still need the cash.
Relevant Resources:
Fast Cash Advance Loans: Things You Should Know​
Cash Advances: How They Help in Your Financial Crisis
How Do You Request for a Cash Advance Online?
Instant Cash Advances Keep You Out of Financial Glitches
Why You Should Prefer Cash Advance Lenders Online