Loans for Bad Credit Online
Bad credit payday loans online are an alternative to traditional bank loans, which give you quick access to funds up to $1,000 with bad credit. In most cases, online loans for bad credit are based on income and other criteria, as most lenders don't even do a traditional hard credit check. However, some lenders may use your credit reporting to make a final lending decision.
Getting online payday loans for bad credit can be a quick and efficient way to overcome an unexpected financial emergency. At CashinaSnap, the process for requesting a bad credit payday loan only takes a couple of minutes, and you also get the best deal from our lenders in terms of APR and acceptance rates.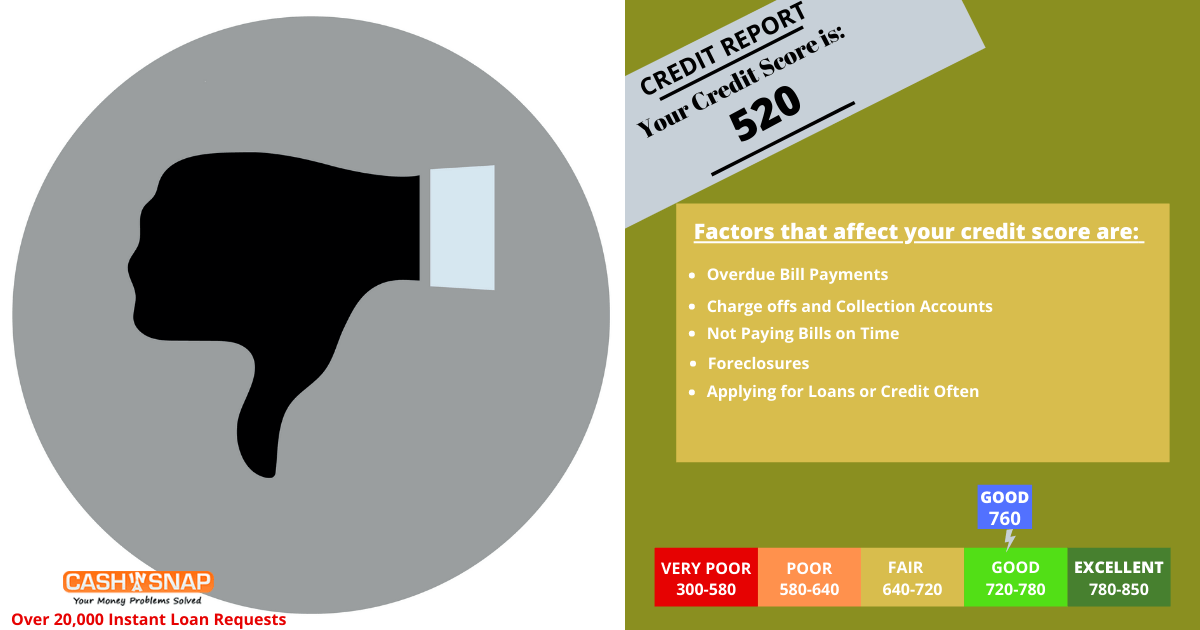 What Is Bad Credit?
Almost everyone has a FICO score, which ranges from 300 to 850 — that is used by lenders to determine the likelihood of you repaying a loan. Scores around 620 or lower often are designated as falling in the "bad credit" range. This means if your score is in the lower range, any traditional lender, like a bank, will not consider lending to you.
Traditional lenders use your credit score (and some other factors) in determining whether they will lend to you. Some factors that affect your credit score are:
Missed Payments – FICO takes many elements into account but here are 3 related to any missed payments; how late the payments are, how long you did not miss any payments, and the total missed payment amount in your payment history. The credit reporting bureaus track missed payments with notations every 30 days. Longer and frequent delinquencies make a greater impact on your credit score.
Defaults and Collections – When you do not pay your bills for a longer duration, many companies consider your account in default. Some companies work with collection agencies to recover the debt, which results in another collection notation on your credit report.
Public Records – The history of any bankruptcy stays on your credit report for up to 10 years. Tax liens and civil judgments can also be detailed in your credit report. All of these can have a significant negative impact on your credit score.
Foreclosure and Repossession – These are the legal processes in which a lender takes the property back if you default on your loan payments. Foreclosure happens in cases of home mortgages, while repossession refers to other types of property like autos.
High Credit Card Utilization – If you are spending very near or over the credit limit of your card(s), the condition is referred to as high credit card utilization. You should keep a balanced ratio of your current balance and the card limit to gradually raise your credit score. The best ratio to keep is 10% of your available credit is being used at any one time.
What Are Bad Credit Loans?
Bad credit loans are short-term loans to help people (who have a poor credit history) in overcoming their unexpected financial emergencies. The feescharged differ from lender to lender, but make sure that you repay the loan on the required date to avoid getting into a debt trap. Lenders charge a flat fee based on the loan amount that is then paid back on your next payday or within 30 days of the loan start date.
There is no barrier in getting a payday loan online, even if you have bad credit. Lenders give relief to all applicants that qualify and rarely check your credit score. Instead, they run a soft credit check for loans for bad credit online via alternative credit sources. The soft credit check is an overview of the credit report.
Payday Loans with Bad Credit
Everyone has money problems now and again. There are almost no exceptions.
With an online payday loan from a licensed lender, you don't have to worry about what your credit score is. Online payday loans for bad credit help you get the money quickly to ensure that your urgent needs are met. Loans for bad credit online are approved within seconds, and you only need 1-3 minutes to fill out your loan request, which can be done through your smartphone. If your loan request is approved, the money is transferred to your account in as little as one business day.
Basic Requirements for Bad Credit Payday Loans
You should be a citizen or legal resident of the U.S.
You do need to be old enough, in most states, it's 18 but a few states require you to be 21
You also need to have worked at your job for a few months; usually, 3 to 6 months or more.
You will also need to provide your checking account information
You must have a valid personal ID.
You need an active email address.
While filling out the loan request form, you also have to share your personal information such as your name, contact number, home address, and employment history.
Advantages of Bad Credit Payday Loans Online
Bad credit payday loans are specifically for borrowers who are not able to get loans from traditional sources due to their low credit score and lack of cash resources. Here are some of the benefits of getting bad credit payday loans:
Easy to request – You begin the request process for loans for bad credit online by simply filling out an online payday loan request form and meeting the basic requirements.
Alternative credit check – Soft credit checks don't appear on your credit report. Most lenders use data sources to verify the most critical information, e.g. you have a real job and real bank account. Lenders work every day with people with low credit scores and are mainly concerned with your ability to pay back the loan on time.
Confidential and secure – All your information is encrypted and protected, and transactions between you and the lender are completely confidential.
Likely approval – After you submit your online payday loan request, you get the approval decision in as little as 90 seconds.
Quick processing – If your payday loan request is processed and approved, your lender will deposit the loan amount into your bank account on the next business day.
Minimum or no paperwork – Most of the time, paperwork is not required, in rare cases, lenders may require some additional documents or information.
Can I get a payday loan with my bad credit score?
You shouldn't feel bad about your credit. If you need an online loan and you have bad credit, you shouldn't worry. Instead of a hard credit check, the lender will verify your income. However, before requesting loans with bad credit online, find out about the payday loan laws in your state.
How do you get a payday loan with bad credit?
Usually, you can borrow an amount of money based on what you make every paycheck. These are small loans, so you don't need to be making a lot of money to qualify. Requesting a bad credit payday loan takes only a few minutes. The process is done online using a smartphone or computer and loan decisions are fast, 90 seconds or less. However, there are some basic eligibility criteria that all consumers must meet.
How do you find the right loan with a reliable direct lender?
Beware of the many small, one shop storefronts, there have been some shady lenders out there and they are limited in what they can do for you. Many come and go. It is better to deal with the larger, more established online payday loan companies who are here to stay. They aren't going anywhere, and they are available to help you 24/7. That is why we are here, to refer you to a large number of direct lenders who have professional staff, are well run, and adhere to the Online Lenders Association (OLA) guidelines.
We only work with reputable direct lenders who follow all the rules and regulations, are licensed in your state, and then connect them to your loan request at no cost to you. We are not a direct lender but a referral service connecting you with more than 100 direct lenders!
Bad Credit Payday Loans - Some Frequently Asked Questions
Will my bad credit prevent me from being approved for online loans?
If you have a history of missing your payday loan repayment and other credit commitments, it may adversely impact your ability to get a new loan. Having a very low credit score may sometime lead to disapproval of your loan request. Generally, bad credit is not a disqualifier for approval as most applicants have poor credit.
However, you can always improve your credit score by taking effective measures to meet your credit obligations in the future.
Will my payday loan request form be approved if I have bad credit?
Your credit score is not the deciding factor for obtaining online loans for bad credit.
Payday lenders will look for people who need urgent short term cash and can afford to repay on time. They will look closely at your earnings and expenses to determine if the loan can be repaid on time.
Does a bad credit score mean I will be declined for an online loan?
No, having a bad credit score or a very low credit score doesn't mean that your loan request will be automatically declined. In fact, it is not a major factor in loan approval, unlike banks and credit cards that rely on it.
Can I get payday loans for bad credit with no guarantor?
Yes, you can. You do not need a guarantor to have a bad credit payday loan. A bad credit payday loan provider considers your credit history while deciding to approve your loan request, so a guarantor is not required.
Does taking out a payday loan mean bad credit?
No, taking a payday loan does not imply bad credit. People often apply for an online bad credit payday loan when they have a cash crunch. However, most online payday loan options are applied by people with lower credit ratings. Most lenders know this and are set up to still provide loans for many.
How long does a bad credit payday loan take to get approved?
Once you have filled the online loan request form, your bad credit payday loan request is processed in less than 2 minutes. However, it usually takes 1 business day to transfer the cash into your bank account.
Can I get a payday loan with a 500 credit score?
A 500 credit score falls in the bad credit range on a standard 300 to 850 scale. At CashinaSnap, we provide bad credit payday loans where you don't need to go through a hard credit check. Many people with credit scores like this are approved for bad credit payday loans.
The best thing to do is to use CashinaSnap and save yourself a lot of time and trouble.
Find a great lender by requesting your loan now...
Related Posts: