Exactly what is a cash advance online? Well, most people simply call it a payday loan. They are the same thing. A cash advance online can help you handle unexpected auto repairs, medical emergency costs, or other emergencies.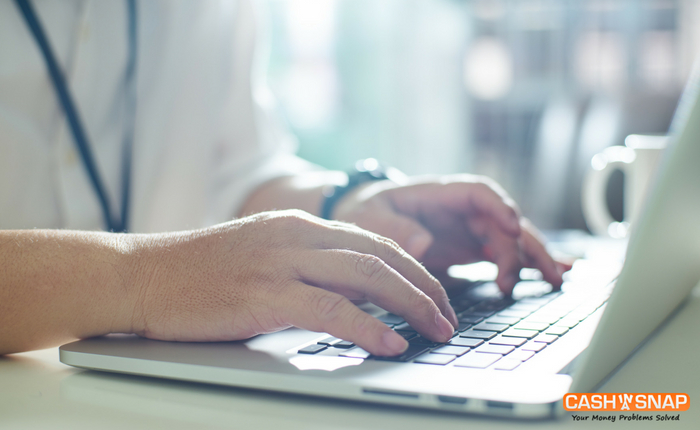 How to Apply for a Cash Advance Online
Simple. Just go to our application form here, it only takes a couple of minutes to complete this one-page form. Our online cash advance application can be completed on your smartphone, pad, laptop, or computer. Nothing to fax, just complete the application.
Our Online Cash Advance Application Process
Your application is reviewed and approved or declined, usually within 3 minutes or less. If approved, your lender will call you immediately to get answers to any questions they may have about the information you submitted. They will also tell you the terms and conditions of your loan.
CashinaSnap is not a lender but a referral source to our many lenders. We try to increase the odds of your application being approved by working with a large number of lenders. Most days upward of 80% of our applicants are contacted by a lender. After you are contacted, we do not have any information about your loan, lender or terms you agreed to.
If you are approved, you could have cash in your bank account in one (1) business day. Don't let people tell you it is the same day. Although it can happen if you apply very early in the morning, 90%+ of the time it is the next business day. Ask your lender as terms and conditions vary, and some lenders can only make next day deposits.
What You Should Know Before Applying for a Cash Advance Online
Be sure to ask your lender any questions you may have about any part of the process, your loan amount, terms of repayment or anything else.

Never accept a loan if you are not entirely comfortable with your lender the terms they have explained to you.

Never accept a loan if you are not sure you can repay it on the date your lender says it is due.

If you are not approved, don't panic. If you applied on a weekend or holiday, there are fewer lenders working to get you a loan. Come back and apply on a weekday.

Even if you were rejected on a weekday, lenders terms and conditions are constantly changing, and you can reapply in 1-2 weeks.

Do not apply at multiple locations or more than once on the same website – this will automatically disqualify you from being considered.
Why Choose Us for an Online Cash Advance?
At CashinaSnap, we understand that when you need money and you need it fast. That's why we have a simple application process, a lot of lenders with money to lend today, and fast technology to speed you through the process.
Cash advances online need not be a difficult process. If you want to learn more before applying, then read many of the resource pages we have available to you first. Then, click Apply Now to get started on your online cash advance application.