School fees can often place a heavy burden on parents. In times of limited funds, providing the necessary support for your children can be a challenge. In such cases, an instant cash advance through a payday loan can help you meet the expenses. By obtaining a payday loan, you can instantly deposit the required cash into your account, ensuring you can fulfill your child's needs without delay. However, it is essential to determine your child's genuine needs to make the most of the cash advances.
This blog will assist you in determining the aspects your child requires instant support to ensure cash advance benefits to the greatest extent.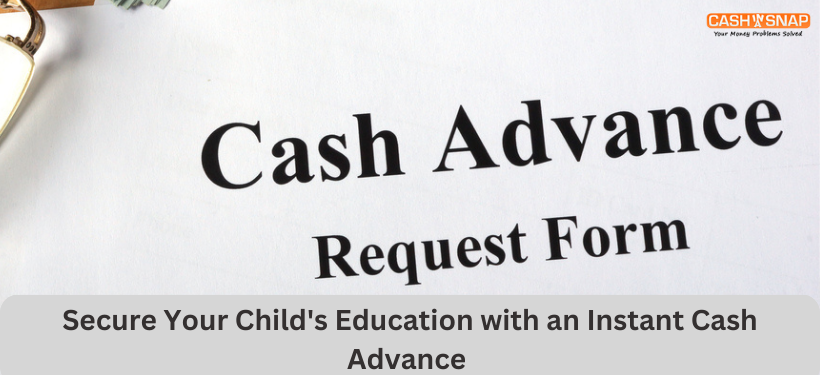 When to Consider Instant Cash Advance
School Fees: If your child attends a private school or is starting junior college or university, you will be responsible for covering their academic expenses. As a parent, one of the priorities when you receive funds from a cash advance should be your child's education. While tuition fees can be substantial, investing in your child's education sets them up for a bright future.
Accessories Expenses: In addition to tuition fees, various accessory expenses are associated with schooling. Items such as pens, paper, notebooks, and pencils are essential for your child's academic journey. Having the financial means available through a cash advance ensures you can promptly purchase the required items and equip your child.
Extra Curricular Skills: Extracurricular activities are vital to a child's overall development. Whether it's joining a sports team, participating in music or art classes, or engaging in other hobbies, these activities help enhance their skills and broaden their horizons. A cash advance can provide the necessary funds to enroll your child in extracurricular programs that align with their interests and passions.
Technical Courses: Investing in your child's technical education can open up numerous opportunities for their future. Whether it's coding, robotics, or graphic design, all these technical courses can equip them with in-demand skills. With the financial support of a cash advance, you can enroll your child in these courses and help them stay ahead in their career path.
Educational Trips: Educational trips provide invaluable experiences for students. Whether it's a visit to a historical site, a museum, or a science center, these trips offer hands-on learning and foster a deeper understanding of various subjects. However, such trips often come with expenses for transportation, admission fees, and meals. By utilizing a cash advance, you can ensure your child doesn't miss out on these educational opportunities due to financial constraints.
Get Immediate Support for Your Child's Education with CashinaSnap
An instant cash advance can provide the necessary financial support when meeting your child's education expenses. By applying for a payday loan from CashinaSnap, you can have the required cash deposited into your account quickly and efficiently. Get started now to explore your payday loan options and get the immediate support your child deserves.