If saving money is your goal, there are several things you can do before shopping or buying anything for your Halloween celebration.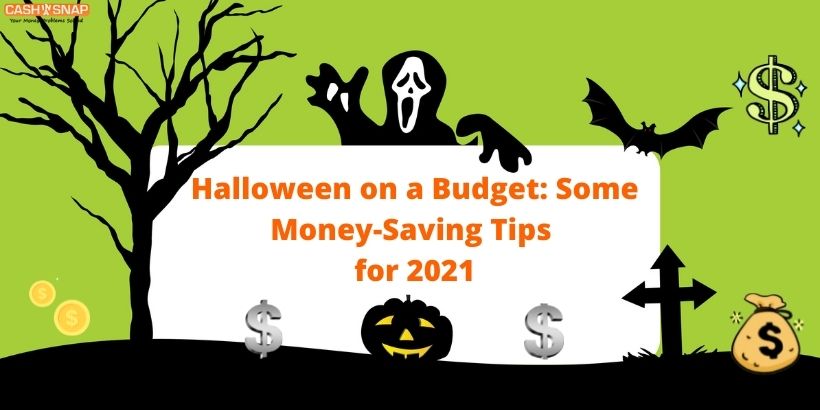 Plan Ahead – Start Here
Decide on a Theme
If you love Halloween, you may be someone who wants to have a theme for the holiday. Everything you see in a store may look enticing, but a little planning will go a long way!
Don't just buy whatever sparkles or looks good at first glance. Stick to the theme you have chosen. Even if your theme is just to be spooky, stick to that idea. You will buy less and may find other ways to produce the feeling or atmosphere you want to create. Some possible themes might be zombies, walking dead, ghosts, witches' coven, blood and gore, spiders, Dracula, and so on.
Check Out Your Home First
When it is a year apart, it is hard to remember what you did and even harder to remember all the things you used and stored away. Find all the previous stuff you kept and go through it with this year's theme in mind. It will save you money as many items can be used for more than one theme. For example, a stuffed black cat can be used for a witch display or a spooky display and others.
It really helps to be organized, box up your decorations, and label the boxes in detail. This will save you time every year when you start sorting through things for the upcoming holiday.
Set Your Budget Before You Start
Most people cannot afford a big budget for any holiday but want to reserve more for Christmas than for Halloween.
Set a budget, you are comfortable with that does not impact the other big holidays that are coming: Thanksgiving and Christmas. If it is only $100, that is okay. But stick to whatever you know you can comfortably spend. Then, prioritize what to spend it on. If you have kids, then costumes for them may be your highest priority.
If you spend your budget on decorations first, you won't have anything left for the other things you need.
Save When Shopping in Stores
Avoid Specialty Stores
This time of year, Halloween stores pop up everywhere. And they do have a lot of options and great items to choose from. But they are generally more expensive than other places.
Try thrift stores like dollar stores and discount retailers like Walmart. You can often find the same things for much lower prices. Many dollar stores have lots of items for Halloween but for very low prices. Seasonal decor is one of the top things to buy at dollar stores. Craft stores like Michaels may have some hidden gems you can create yourself and save money.
Consider vintage stores too. You can find vintage goods that will work for various themes, and sometimes you find decorations people no longer use. You can cheaply buy things like old rusty knives, antique bottles, and garden tools to add that creepy feeling to a display.
Save When Shopping Online
Instore shopping allows you to see and touch goods directly. However, occasionally, what you buy doesn't match your expectations. Also, getting the best deal means checking prices at multiple stores, and so you are driving around using gas and wasting a lot of time.
The answer could be simple Google searches. Search for decorations using specific phrases related to your theme, like "plastic human skeletons." You can browse through the results or click the Shopping tab on top of the results page. Many times, you can see prices for the merchandise so you can compare.
Use Rebates
Rebates are like coupons in reverse. Even though they don't help you save money upfront, they return money to you after you buy. You might use apps like Rakuten for cashback offers before you start to shop. If you find a good deal, you need to shop through the app to get credit for your purchase.
One place to check for Halloween decorations is Amazon's Halloween store. There are all kinds of decorations, including budget ones. You can also try online dollar stores like Dollar General, Dollar Tree, etc.
Rethink Your Purchases
Being strategic about your purchases can help you save money, whether you're shopping in-store or online.
Try Finding Double-Duty Décor Items
There are many fall-type decorations that can work for the other winter holidays. Fall colors, pumpkins, autumn leaves, dried corn stalks, burlap, and scented candles can be part of your décor for more than one holiday.
Select Reusable Decor
You can really stretch your budget by buying decorations you can reuse every year.
A fake pumpkin may not smell like a real one, but it can be used for years. And most have a light-up feature. Look for generic decor you can reuse, no matter your theme. Scented candles with candle holders or battery-powered candles can work well over and over. Same for Halloween staples like cauldrons, skulls, and spiders.
Invest in Quality
If you are considering any outside decorations like inflatables or standup items, you should consider paying more for higher quality that you can use again and again. Some of the cheap outdoor decorations don't even make it through one season.
Use Spooky Lighting
Lighting is one area where a little can go a long way. Spooky lighting can be as effective as a lot of decorations. Invest in faux candles that have the flickering effect. You may have to replace batteries each year, but they are a lot less expensive compared to real ones.
Make Your Own
Repurpose Household Products
One of the best ways to save money on Halloween decorations is to make them yourself. Go to a craft store and look for items you can change or transform into other things.
Some household items like milk cartons, cardboard boxes, garbage bags, etc., can be converted into decorations or even costumes. You might need a little glue, some markers, or water-based paint. But you can change them into Halloween classics like scarecrows, tombstones, or even zombies. Cheesecloth is another item that is cheap but can be used in many ways. You can drape it anywhere in or out as well as make ghost costumes with it. It's also the ideal material for making ghost decorations. Garbage bags can be made into giant spiders and body bags, and creepy curtains.
Final Thoughts
A few simple tricks can help you save money this Halloween. And if you enjoy doing crafts and DIY projects, saving money on Halloween becomes a creative challenge that can bring even more fun to your holiday.
If in need of some short-term financial help, consider an online loan to cover the basic expenses you have. It should not be your first choice but may still be a solution to consider.
CashinaSnap has been in business for more than a decade and provides service 24/7 and 365 days a year. When you need emergency loans or online payday loans, consider requesting one today. With more than 100 direct lenders waiting to review your loan request, you have a great chance to be approved and get your urgent money. Credit problems are not an issue.