Bad credit loans are a way for consumers to get money when needed, despite having poor or bad credit scores.
Bad credit loans are personal loans, and there are only 2 types: through a traditional source like a bank or from a short term lender like a payday lender or installment lender.
Most people seeking a bad credit loan do have poor credit and may have exhausted most of the available options to get a loan. If you are short of cash to repair your car or pay a medical or a utility bill, you need money right away and likely will not be able to seek a traditional loan as they take too much time to apply for and process.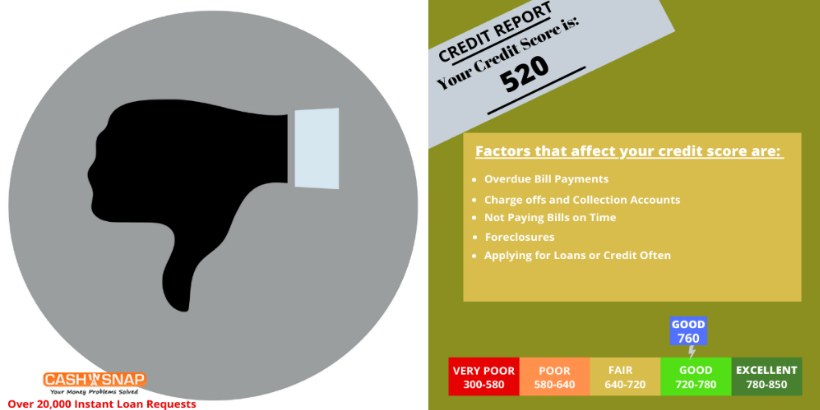 How Bad Credit Loans Work
Bad credit loans, here we are referring to the payday type loans, work as truly short term loans that are fee-based. This means the loan will be paid back within a month or less, often on your next pay date, and you will pay a fee based on the amount of the loan you receive.
The fees will vary depending on where you reside, as each state has its own laws governing these types of loans.
If you qualify for a slightly larger loan, an installment loan (over $1,000), your payback term will be 6 to 12 months with a typical interest rate. The rate will be higher than a credit card or a bank loan.
What Is a Bad Credit Score?
Credit scores are used to determine the risk the lender will take when lending to you. The better your score, the more likely you will repay the loan on time and in full.
Bad credit is often defined by scores below 650, although some will say below 600. If you have a lower score, you are considered a high risk to repay the loan.
This risk factor is why the costs of payday loans, and to some degree installment loans, are high compared to traditional loans.
How Bad Credit Scores Affect Borrowing
If you have a good to very good credit score, you will pay much less for many purchases. Your interest rate for a home or auto will be lower than those with lower scores. And you will likely be approved for any lending request you apply for.
If you have a poor score, the opposite applies. You will have difficulty getting approved for many types of loans or lending and will pay much more as well.
How to Get a Loan with Bad Credit
To get a loan with bad credit, it is safe to assume you need it quickly, if not immediately, and that you have exhausted other ways to get the money.
Then, and only then, you can apply for a payday loan and have a good chance of being approved. Payday loans should only be used as a last resort due to the high fees payday lenders charge based on the high risk they take when providing these loans.
Never get a loan with high fees or interest unless you are confident in your ability to repay the loan on time, even if it is a small $300 loan.
Common Information Required for Getting a Bad Credit Loan
If you are requesting a traditional loan, like a bank or savings and loan type, you will likely need all of the following:
Tax returns or W-2s and 1099 forms for the last 2 years
Details of your job history, including salary and bonuses
List of assets such as a home, car, etc. and how much you owe
List of debts such as credit cards and medical bills
Bank statements for checking and savings
If you are requesting an emergency payday type loan or short term installment loan, you will need to meet these basic requirements:
Be 18 years of age or older
Have an active bank account
Have a working phone number (cell is good) and email
Have a steady income for at least the last 3 months
Earn at least $1,000 a month or more
Pros and Cons of Bad Credit Loans
A couple of the pros for a bad credit loan are:
Bad credit loans are much easier to obtain and amazingly fast. If approved, you can usually have your money in just 1 business day.
You can easily get a loan by going online and requesting directly and getting an answer in a few minutes.
A couple of the cons for bad credit loans are:
You will pay fees or high-interest rates even though the loan is small in size.
If you do not pay back your loan on time, you will suffer additional fees or penalties that make the loan even more expensive.
Where to Get a Loan with Bad Credit
There are many online websites where you can quickly get a loan with your bad credit. CashinaSnap.com is just one of them. It is best to use an online resource that has been around for many years, like CashinaSnap, so you know it is a trusted source.
Online lender referral sites like CashinaSnap have a large number of licensed lenders, which increases your odds of approval and saves you the time and gas money of driving around and going from one storefront to another trying to find a loan resource.