We have talked about the use of the word "instant" in other blogs. However, it is important to refresh everyone's memory about this form of advertising or claim as they are seen online many times. The word "instant" implies it will happen now or immediately and this is absolutely not true and is false advertising in case of instant approval cash advances or online payday loans.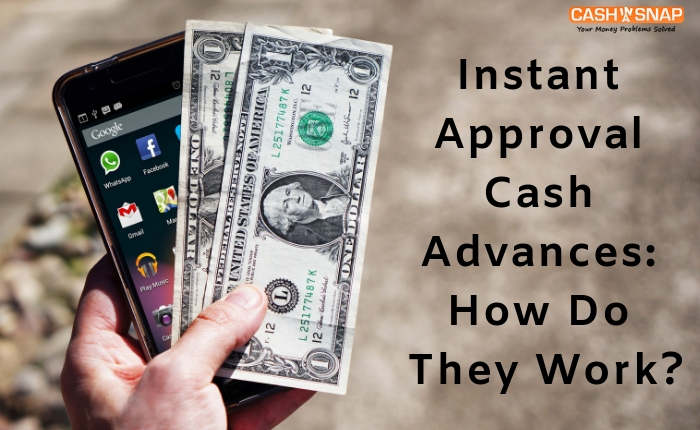 How Can You Get Instant Approval Cash Advances?
There is a process that everyone must go through to receive an online payday loan. The first part is relatively quick and easy and secure. Just complete an application online and submit it. Once the electronic submission of the application is complete, it is shown electronically to over 100 lenders, and this process only takes 1-2 minutes. Then the application is either accepted by a lender or rejected. Not everyone is approved for cash advances.
If a lender accepts your application and wants to lend you money, then they must call you and discuss the amount they are willing to lend, the terms of the loan, payback date, and other information. This call occurs shortly after they accept an application. Usually, it takes 20 minutes to have the conversation with the applicant. The applicant has no obligation to accept the loan offer if one is made.
The most time occurs when a lender wires funds to your bank. This takes at least 1 business day to complete. No weekends or holidays are included in this timeline. If you apply and are accepted on a Friday and Monday is a national holiday, you won't receive the funds in your account until the following Tuesday.
Things to Remember When Applying for an Instant Approval Cash Advance
Instant approval cash advances should only be used for urgent situations like a vehicle break down, having outstanding checks to cover and you don't want a bunch of $35 NSF fees, and so on.
Note that there are states that do not allow online payday loans. You can discover your state regulations by visiting the state website where you live. Every state website has information about lending.
Always be sure you can pay back your loan on your next paycheck or as agreed with your lender.
Applying on holidays or weekends reduces your chance of approval as fewer lenders work on these days.
Why Choose Us for Instant Approval Cash Advances?
CashinaSnap is a fast, easy and safe service that refers you to more than 100 lenders who want to lend to you. The odds of loan approval are generally higher with a large array of payday lenders. You can use your cell phone to complete an online cash advance application and get an answer in just 1-2 minutes.
Need help? Apply for online payday loans now!