If you are a single mother in need of financial assistance, there are several possible options. One of the best options for getting money quickly in case of an emergency is through an instant cash advance.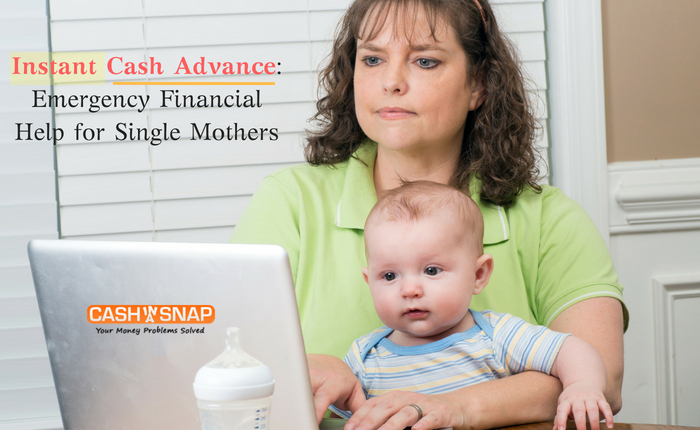 Where can a single mother get financial help?
If you have no income and are also pregnant, you may be able to use one of these government programs:
Private disability insurance
State temporary disability
Paid family leave benefits
If you lost your job, there are several government programs that may offer financial help. Of course, unemployment compensation may replace a portion of your lost income. Again, this varies from state to state.
If you find yourself out of work due to your childcare duties, you may be eligible for help. Around 20+ states allow workers to collect unemployment if they quit their job for a 'good cause' reason. This often includes taking care of a sick child or family member. You may be eligible for these benefits after meeting three standards.
Able to work
Available for work
Actively seeking a new job
What government programs are available for single mothers?
There are many government programs that are available for single mothers with low or middle-income levels. These programs help you save money on food, housing, health insurance, childcare, and taxes. Here are a few federal programs:
Temporary Assistance for Needy Families (TANF)
The Women, Infants and Children Program (WIC)
Supplemental Nutrition Assistance Program (SNAP)
National School Lunch Program
The Emergency Food Assistance Program (TEFAP)
Medicaid
Childcare assistance programs (CCAP)
What types of grants are available for single mothers?
Grants for single mothers are available from various sources, including state governments, the federal government, educational institutions, and nonprofit organizations. Some of the popular grants are:
Pell Grant
Federal Supplemental Educational Opportunity Grant (FSEOG)
Academic Competitiveness Grant (ACC)
Grants from Raise the Nation Foundation
There are actually government grants for single parents, but finding these, applying, and receiving the money can be a difficult process. Beware of scam artists who promise a loan for an upfront fee. No legitimate lender will ever ask for money upfront.
If you own a home, you may apply for a home equity line of credit to cover your expenses, but usually, you must still be working to get accepted.
However, none of this may apply to you or it won't help you quickly enough in your time of need.
How do you get emergency cash fast?
If you have some form of recurring income, you can apply and may be approved for a cash advance loan. To qualify for an instant cash advance, you must:
Be 18 years old or above
Be a U.S citizen or a permanent resident
Have a verifiable income
Have a valid id and a Social Security tax id
How to apply for an emergency cash advance
You can apply for an emergency payday loan by filling out an online application form. You are then connected to a network of lenders who will review your loan application. Once your loan request is approved, the lender will contact you to discuss the terms and conditions of the loan. If you accept the loan offer, you could get your money directly into your bank account the next business day.
What should you consider before applying for an instant cash advance?
As a single mother, you should be very cautious about the repayment of your loan. Most fast cash advance loans require repayment quickly, so be sure you are comfortable with whatever terms a lender proposes and understand you are never obligated to accept a loan offer. Failure to repay the loan as originally agreed can put additional strain on your finances and pile up debt you don't want or need.
CashinaSnap has a very large referral base of trusted lenders who will improve your chances of getting approved.Looking for an instant cash advance? Apply now!