When you are in a cash shortage situation, you may need an instant cash loan.
What are instant cash loans? For a large number of Americans, there is no "emergency" fund, so when an unexpected expense hits, like your car breaking down or a medical situation, you just don't have the cash you need. However, getting instant cash loans can be a solution. Instant cash loans are short-term, small loans to help you get through a cash crunch. They can help you when you are short of cash until your financial situation improves.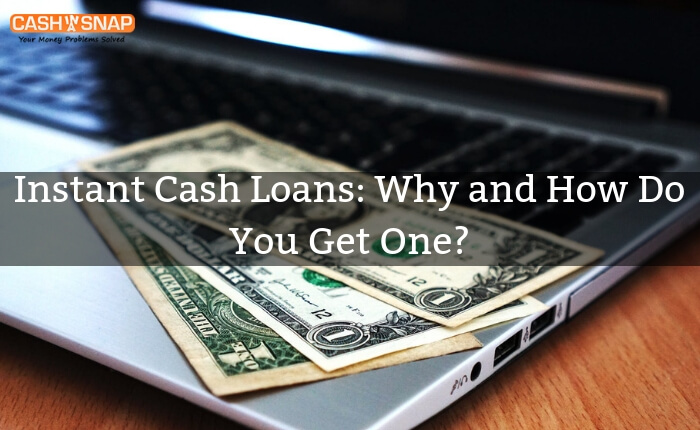 Why would someone apply for instant cash loans?
Well, usually because there are no other options available to them. For many people, credit cards or normal bank loans and even a personal loan from a family member are not options. Top that with a low credit score, and it seems impossible to get help. However, instant cash loans can fill the void for a short time. Most people live paycheck to paycheck, so any unexpected large expense is a real problem for them.
How do you get an instant cash loan?
Do you need something to secure the loan? --- no.
Do you need good credit? --- no.
Do you need to own a home or some other large asset? --- no.
Simply apply, and within a couple minutes after submitting your application, you will know if a lender wants to lend to you. CashinaSnap has a distinct advantage over many lenders. We are a referral service having over 100 lenders, so the odds of any person getting approved are much higher. And, because we are online, there is no driving, filling out a form, and then driving to another store trying to get a loan. In just 2-3 minutes, you can complete our online loan request right from your cell phone and find out if your request is approved in just another minute or so. It's not instant, but it is really fast!
Keep in mind that if you are approved, most lenders will not deposit money into your account for 1 business day (this typically excludes weekends and holidays). Getting the money you need is not 'instant,' but it is very quick.
Although CashinaSnap has a very high approval rate for those requesting a loan (over 80%), there is no guarantee your request will be approved. Applying for a loan from more than one lender usually disqualifies you from being considered.
Apply for an instant cash loan at Cashinasnap; it is fast, easy, and secure. If you need help now, Apply Now!