Cash advance loans online can be a good solution for immediate cashflow problems. However, there are many things you should consider to decide whether a cash advance loan online is the right option for you.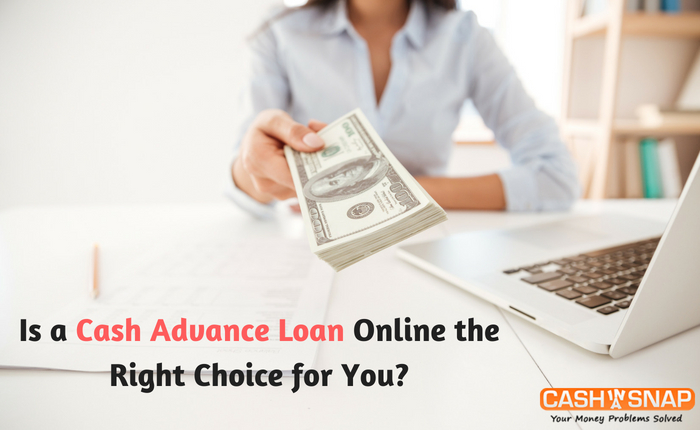 Here are some important things you should be aware of before applying for cash advance loans online:
The first thing to know is that all payday loans or cash advance loans have high fees and should only be used for emergency or urgent situations. In addition, always be sure you can pay back the loan on the terms you agree to with your lender.

Cash advance loans online are fast. You can complete an application in as little as two to three minutes. If approved, money can be deposited into your bank account as soon as the next business day.

Many people who cannot get a traditional loan or have no credit cards to handle an emergency expense can get approved for a payday loan even if they have bad credit. Normally you'll need proof of income from a job you have been in 6 months or more, valid ID, and a current bank account. Requirements vary by lender.

If you are approved, your loan fees and terms of repayment are straightforward and easy to understand. Your lender should always explain your loan terms and fees to you before you agree to a loan. You should know exactly how much you are required to repay and when you will repay it before you receive your loan.

Before you decide to apply, be sure to understand the benefits and your repayment fees, so you are sure you will not default on the loan. If you are going to have some checks bounce, most banks charge $35 per bounced check, and then even 5 bounced checks will cost you $175… far more than any typical fees for a payday loan. So, it can be cost-effective depending on your situation.
Why Choose Reputable Lenders for Cash Advance Loans Online? Lenders for cash advance loans online should be reputable and safe. Payday lending is a tightly regulated industry. Responsible referral sources like CashinaSnap follow strict guidelines which are there to protect you. CashinaSnap is not a lender but a referral source for many lenders. This increases your odds of being approved for a loan.
If you have concerns about cash advance loans online, then do your homework and read some of the many articles on the CashinaSnap website.
We are here to help. We can connect you to our array of reputable lenders in seconds after you complete our online payday loan application form for getting a cash advance loan.