Facing a financial crunch and need some help paying your bills or other large expenses that have sprung up? While you can go to a bank to try and get a loan or some financial help, this option can take months of back and forth with the bank and piles of paperwork only to get rejected after all that time and effort. Instead of risking being told "no" by the bank and being in a deeper hole, why not use instant cash advance loans online?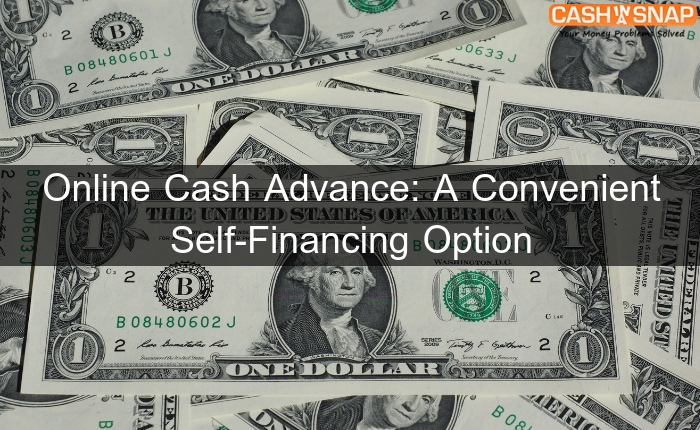 What Are Online Cash Advance Loans? An online cash advance is a short-term loan of a small amount usually taken in case of a financial emergency when you need money fast. It helps you overcome the financial crisis by providing the money the next business day.
What Are the Advantages of Online Cash Advance Loans?
Cash advances through online websites have become very popular and one of the go-to methods to obtain the money you need to get by a financial glitch or pay a surprise payment. Why have they become so popular compared to banks or traditional cash advance offices? Here are some conveniences to consider:
Easy to Apply Online cash advance loans allow you to do everything within the comfort and privacy of your home. You don't have to feel embarrassed about going to a cash advance office, asking family for help, or feel bullied by the bank. Everything can be done online, from filling out information to having the money wired or transferred over to you.
Instant Approval Need money immediately and not a few months from now? Instant cash advance loans online can be approved instantly when you use reputable online cash advance websites. You can request the money and have it the next business day.
Transparent Terms and Conditions You can personally see all the fees and rules attached to the loan up front. Instead of being confused by bank paperwork or not having clear rules when it comes to paying back a family member or loved one, your cash advance loan is going to be completely transparent. You will know about interest rate, any fees, and when the loan needs to be paid back.
What Do You Need to Get an Online Cash Advance? You need the following things to apply for a cash advance online:
You must be above 18 years of age in most states and over 21 years in some states
You should have a steady job for at least the last 3-6 months
A valid bank account in your name
A valid email address and phone numbers (home and work)
How Do You Get an Online Cash Advance?
Getting an online cash advance has never been so easy. You just have to follow some simple steps to get the money you need.
Step 1: Fill out an application form online You just have to fill an online payday loans application form which only takes 2-3 minutes to complete. You can complete this form from your smartphone, laptop, iPad, or computer. You just have to provide information about you, your job, and your bank account which is kept secured and confidential.
Step 2: Get connected to a suitable lender Once you submit your online application, you are then connected to a large network of lenders who review your application. You are approved or declined within 2-3 minutes and then connected to a lender who wants to provide the loan to you.
Step 3: Understand the terms and conditions of the loan Once approved, the lender will contact you to review the terms and conditions of the loan with you. It's important to understand all the terms and conditions before accepting the offer. Even if approved, you are not obligated to accept the offer.
Step 4: Get the money deposited into your bank account Once you accept the offer, the money is deposited directly into your bank account the next business day.
Get a Cash Advance Online
Don't feel embarrassed, self-finance yourself through instant cash advance loans online and pay off any impending bills or payments that keep you up at night. You shouldn't have to wait around for a reply on your loan when you can get one right now online.