Studying abroad can be one of the most exciting parts of college for a young student. Whether you're traveling to a country where English is the main language, or you're going somewhere you'll be immersed in an entirely different culture and dialect, the prospect of living abroad can be fascinating.
However, studying abroad also means a great deal of responsibility for young college students. While most college students take on more responsibility if they travel overseas for their education, being in an entirely different place with a support system so far away can be challenging.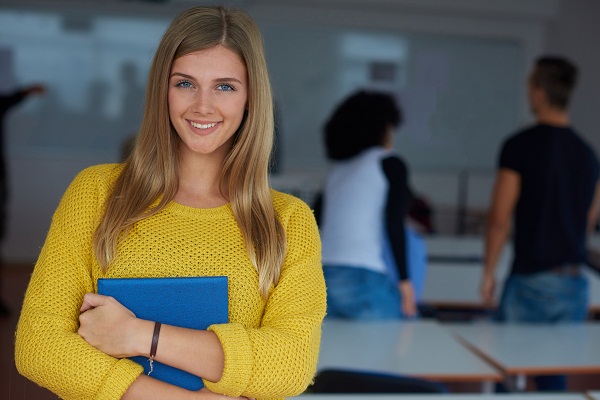 That's why it is so important for students studying abroad to be smart with their finances. After all, calling mom or dad for a few extra bucks, or even borrowing $50 from your roommate, may not be as easy as it was before.
Here are some tips for students to manage their money when studying abroad while still having the time of their life:
Watch Your ATM Fees ATM fees can be incredibly high when you're in a foreign country and you have a US bank account. That doesn't mean you won't need to withdraw cash though.
If you can, consider an account that will waive foreign transaction fees. Believe it or not, those accounts are out there and may be beneficial if you're out of the country for a semester or a year.
You should also try to get cash in slightly larger chunks, so you're not paying per-transaction fees as much. Taking out the equivalent of $20 every day doesn't make sense compared to just taking out $140 for the week.
Understand Exchange Rates Exchange rates vary from country to country, so you need to be well-acquainted with how they work. If you're not, you could end up paying a whole lot of money just to get the right currency. That's not what any college student on a budget needs.
Take the time to figure out the exchange rate and make the most of it. One of the best things you can do is keep your eye on exchange rates as they cycle. You won't be able to time all of your exchanges this way if you need to do them regularly, but you will be able to make the most of your money by looking for the lowest rate possible.
Look Out for the Best Exchange Rates You also need to become familiar with locations around you that offer the best exchange rates. Not all of them are the same, and many locations near major hubs like airports will charge a little bit more for convenience. That may or may not be worth to you if you're in the country for a longer period of time.
Another thing to consider is any discount you may get if you exchange a certain amount of cash. Some brokers offer a reduced rate if you change $250, $500, or more cash at one time. Take advantage of those discounts if you're able to do so.
Use Debit/Credit Cards Outside of switching your account, using a credit or debit card for everyday purchases might be the smartest move. You can also get cash back at most major retailers when you use a debit card, and there won't be any fees attached.
So remember, if you need to go grocery shopping and you're short on cash, get some while you're there. Think of it as getting one item for free since you won't be paying big ATM fees.
Let your bank and credit/debit companies know that you will be abroad so that they do not cancel your credit card and your transactions are not denied. Also, make sure that the debit or credit card you are using is in your name, not in your parents'. You can get an additional card from your parent's bank. Most lenders provide a card in the name of the dependent who is authorized to use the account.
Make a Budget Make a weekly expense budget. Remember to carry your student ID or International Student ID to get student discounts or even free admission. Avoid eating out, cook for yourself or eat with your host family.
It's important to make a budget for travel as well. Buy a monthly trip pass or long-term bus or train pass instead of buying daily passes.
Keep a Log While you're studying abroad, you probably won't be able to spend tons of time looking at online banking. Instead, keep a paper log of what you're spending. Even a slip of paper in your wallet can help.
You can still check online banking, but you'll be so busy you won't have as much time for that as you think.
Take Proper Security Measures Keep track of your purses and wallets. You can carry a money belt to hold your money, debit/credit cards, IDs and passport safe. Do not carry excessive cash and do not keep all your money at one place. Store most of it in a safe place with your host family or wherever you are staying.
Consider safety tips while using ATMs. Use ATMS that are in well-lit areas and do not withdraw if you see anything suspicious.
Check the Options of Local Banks If you are already a customer of a large bank or big financial institution in the US that has a larger ATM network, it will be easier for you to find an affiliated ATM and avoid a fee for being out-of-network.
You can also open a new account at a local bank to have better access to ATMs and make your purchases without any fees. Consider online banks that have lower fees.
Studying abroad can be a wonderful experience, but you need to make sure that you do it the right way!