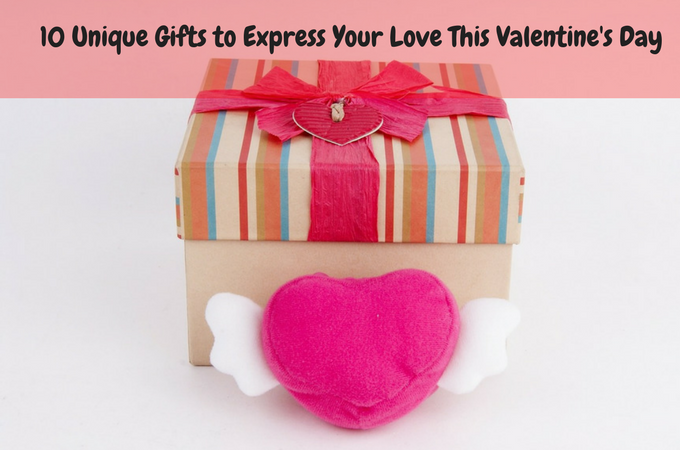 It's that time of the year again when you want to show your love and affection for the person you love the most! Besides the typical cards, chocolates, or flowers, everyone wants to find something unique for their loved one. Your gifts are an expression of your true love and affection. Show your love with something unique and romantic.
Here are 10 unique gifts to express your love this Valentine's Day:
Personalized Romantic Gifts Nothing shows your true love more than personalized gifts! Customize a photo cushion or a photo mug with your favorite photo or quote. Show your feelings with a customized Valentine's Day card.
Plan a Romantic Getaway Set the mood for the day by taking a mini vacation to a romantic place where you two can spend quality time together. Spending the day with your loved one is the best way to express your heartfelt emotions.
A Love Journal

Gift a love journal in which you can write your love messages and mention why your relationship is unique. You can fill the journal together making it a cherished keepsake. It will remind you of your relationship if you will flip through the pages of this journal someday.

A Gift Basket

A gift basket is all you need for a romantic evening! Instead of going out for a romantic dinner, staying at home and having a house picnic is less stressful and more romantic.

A Heart-Shaped Jewelry Box

Gift your loved one a heart-shaped jewelry box with a lovely Valentine's Day message engraved on it. It's a perfect gift to show your appreciation and love and convey your feelings.

A Keepsake Box

A heart-shaped keepsake box is the perfect Valentine's Day gift for someone special! Express your feelings with custom engravings with your or your loved one's initials.

Matte Black Stainless Steel Flask

Express your true love for your significant other in the most intoxicated way! Gift the Matte Black Stainless Steel Flask. You can convey your emotions by personalizing it with a message lazered on the flask.

Love Message in a Bottle Gift Set

A unique way to show your love and express your emotions! This bottle gift set comes with a glass bottle, gift box, rose petals and a paper on which you can write a heartfelt message, and then roll it and place it in the glass bottle.

Heart-Shaped Necklace and Ring

What could be more romantic than giving the love of your life a piece of jewelry to treasure forever? A heart-shaped necklace and ring symbolize true love and are tangible proof of how much you love and care.

Instax Mini 90 Neo Classic Instant Film Camera

The perfect gift for anyone who loves to capture the best moments! This camera will take theirphoto skills to the next level. The camera's settings can be adjusted to capture high-quality images. A built-in printer and its vintage look increase its appeal.
Surprise your loved one with something more romantic this Valentine's Day! Post May You Also Like: