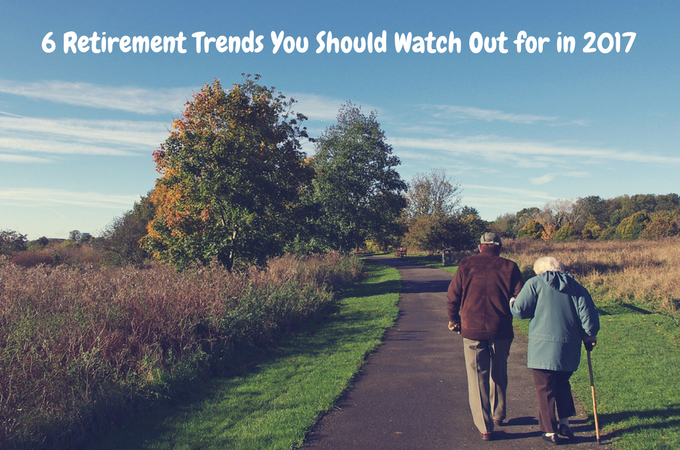 The current definition of retirement is becoming obsolete for the coming generation of retirees. Many new retirement trends and strategies are emerging that will have a great impact on retirement for the next few years.
Retirement housing will likely become a growing issue the next five years, according to SOA's report. Even though the majority of American seniors are homeowners, a majority still pay mortgages.
Here are some important retirement trends to watch for in the months ahead:
Home Equity as a Safety Net The reason reverse mortgages are bound to become more embraced by boomers is that they allow you to borrow against your home equity without paying it off until you sell the home or die. These Americans are focused on the dream of a mortgage-free lifestyle so that they can have more control over meeting the cost of living. Savings can be used for emergency health care.
An Uptick in Robo Advisors As boomers ride into the sunset, they will be part of yet another historic revolution, which is the advent of artificial intelligence. One dimension of this realm will be "robo advisors," which are programmed electronic voices that will provide advice on Social Security, taxes and other financial issues.
Social Security Drainage The Social Security trust fund is currently set to be exhausted by 2034, unless Congress works on plans to preserve it. That's why Social Security will most likely remain a top political issue, even with the new administration pledging to not alter benefits.
Post-Retirement Work Many retirees simply do not have enough savings and need additional income to meet steadily increasing living costs. So it will become more common for them to find odd jobs to supplement their income. A recent Transamerica poll found that two-thirds of boomers expect to work past age 65.
New Savings Plans Since over half of all 55 million workers don't have a retirement or pension plan, states are beginning to adopt savings plans for employees, particularly for small companies. It will also benefit low income individuals, minorities and people who do not have college degrees.
Stricter Fiduciary Rules Requirements for financial advisors are tightening to prevent conflicts of interest. These advisors traditionally capitalized on investments that awarded them with commissions without regard to client interests.
Post May You Like: