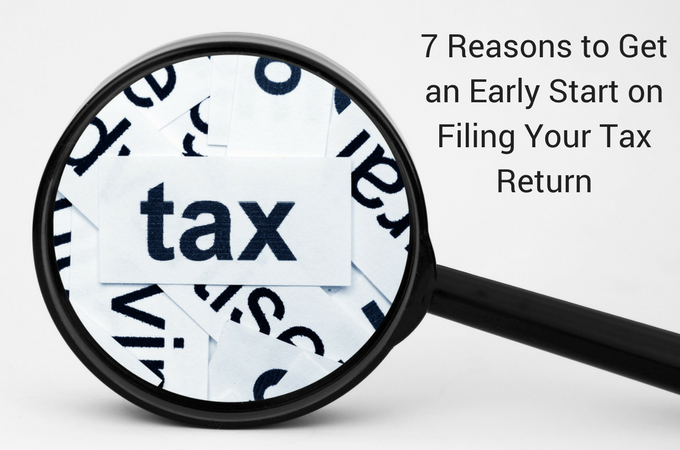 Tax season is here! Are you ready to file your tax return and get the most out of it? Minimize stress and maximize refund by filing your tax return early. Waiting until the last minute to file your taxes will force you to rush and leave out important information on your return. Get a jump-start on your tax return and speed up your refund process.
Here are 7 reasons to file your tax return early:
Get Your Refund Early If you are eligible for a tax refund, filing early will help you get your refund money sooner. The IRS will process your claim faster as they are less busy right now. You can get your refund within 21 days or even less when you have e-filed and have direct deposit. The longer you wait to file, the longer it will take to get the refund!
Extra Time to Pay If You Owe Taxes If you owe taxes to the IRS, you can also file your return early. Even if you submit your return early, you don't have to pay the money you owe to the IRS until the tax-filing deadline in mid-April. Filing your taxes early will give you extra time to arrange the money that you owe the IRS.
Avoid Missing the Deductions and Deadlines If you wait until the last minute to file your return, you may rush and fill out incorrect information on your tax form, leading to incorrect tax deductions or missing out valuable credits. Filing at the last minute increases the likelihood of missing the deadline and requesting for an extension.
More Money in Hand Receiving the refund early will put more money in your pocket that you can use to pay your bills and save for emergency or retirement. You will have your refund money in hand before the filing deadline. You can pay your credit card debt or student loan using this refund money.
More Time to Identify and Correct Mistakes Filing early can give you a grace period that will help in many situations. If you file your return early and later on identify any mistake, you will still have time to correct that mistake before the deadline. Last-minute filing and noticing such mistakes after the deadline will result in penalties or interest on unpaid taxes.
Reduce Stress Starting the filing process now will give you more time to gather all the necessary forms and documents to file your return properly and on time. Filing early will help you avoid making crucial mistakes on your return form as you will not be in a rush to file your return. This will help you reduce your stress.
Avoid Identity Theft File your tax return early to avoid identity theft. Filing early will prevent someone else from filing a tax return in your name. Some criminals try to steal your Social Security number and file in your name to get the refund. File your taxes early and keep your SSN a secret to avoid such situations.
Opt for early filing and get a sigh of relief after completing it successfully!