Keeping a tight budget is the best way to approach a Christmas party. Estimate the number of guests and set aside the money you have to host the Christmas party this year. Limit the gifts to one per person for adults or even do a white elephant and ask each person to bring a wrapped gift, under a certain amount, and do an exchange; this will keep the family busy for hours!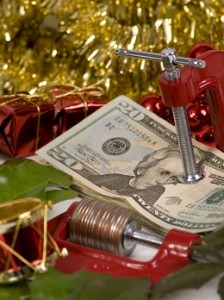 If you will be entertaining kids then buy several small cheap toys and wrap them up, and put them in a bag allowing for each child to grab a toy every hour of the party or until the gifts run out. In grab bags you can put in some rented movies as well. This mix of home theater and contests keeps the kids entertained. You can dedicate some of the time to artwork too. Buy poster boards or construction paper and let the children's imaginations run wild while their favorite Christmas music plays in the back ground.
Serving food is more than likely your job if you are hosting your holiday event this year. You can prepare the main dishes like the ham or turkey if you're having that and ask each guest to bring a side dish. Making your Christmas dinner potluck style will save you both time spent in the kitchen and money. Doing Christmas dinner this way will allow everyone to try a variety of dishes! So layout a nice table cloth and light some candles, oh, and don't forget to bring your Appetite.