Deciding between a cash advance online and a credit card for solving financial issues can make a big difference in the long run. It all depends on a person's financial history, current situation, and outlook. Some people need cash faster than others and some people are able to repay loans quicker than others. You need to decide how the terms of the deal will affect your short and long-term budget.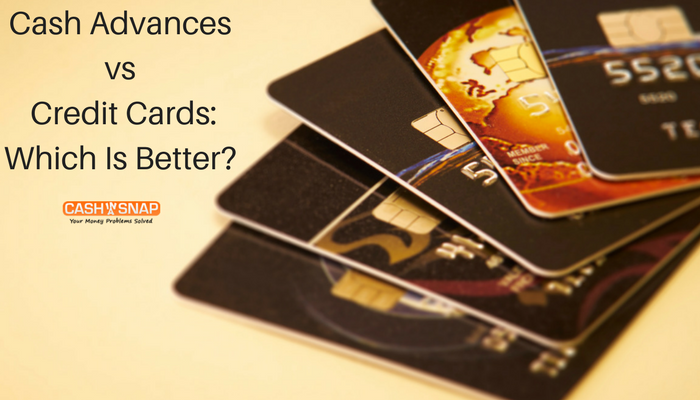 Before you apply for any kind of loan, do some research on various lenders to compare terms and interest rates. Another factor to check is flexibility with the payment schedule.
Loans on Credit Cards Vs. Cash Advance Loans
Loans on credit cards are just like personal loans, but it's offered without the regular documentation process and delays that come with personal loans since credit card loans are pre-approved. Banks offer loans on credit cards to customers with high credit rating.
In the case of online lending, a cash advance normally means a short-term loan that is instantly transferred to your bank once approved. You can conveniently apply and obtain a cash advance loans online without leaving your home or office.
How Much Can You Borrow?
The amount of loan that you can borrow on your credit card is based on your card's credit limit, which is further based on the local lending policies of the concerned establishment. The borrowing limit on an online cash advance is determined by the state you live in.
Bottom Line:
The amount you can borrow is dependent on your credit limit as well as your state's laws.
What Are The Repayment Terms?
Usually, the repayment terms for credit card loans are inclusive of monthly installment payments as well as a prepayment option including pre-closure charges. The minimum tenure option for credit card loans is as low as 6 months. Generally, the borrowed amount for a cash advance loan is comparatively small and may only need one or two payments for a complete repayment.
Bottom Line:
Repayment for a cash advance loan is due much earlier than that of credit card loans.
Which Is The Better Option?
By applying for a cash advance loan you can easily get your hands on surplus cash to meet an urgent requirement. Most people depend on their credit cards to get help during excess buying and emergency costs. It's a sensible idea for many to utilize credit card loans over short-term
loans such as online cash advance
since minimum payments are often conveniently repayable at one go. However, you must consider the long-term implications of your heavy debt situation on your finances.
Bottom Line: Your final decision to choose between an online cash advance and credit card loans will be based on various factors. These factors include legal status of online cash advance loans in your state, the quantum of loan required by you, and how fast you're capable of repaying the loan.
An online cash advance loan is an effective means to reduce the current gap between your expenses and an upcoming paycheck. Choose CashinaSnap.com to fix your urgent financial crisis and maintain your finances in order, with quick cash from an easy and guaranteed same day cash advance or a cash advance online.

Also Read:
Payday Loans or Cash Advances: Things You Should Know
Why You Should Consider Payday Loans over Prepaid Debit Card Loans