Independence day is a day of patriotism, loyalty and nationalism! USA celebrates its independence day on 4th July waving its flag of freedom. Independence Day has great significance. It was the day when United States claimed its independence from England by signing the declaration of independence and hence gave birth to a democratic nation.
It is considered as a federal holiday in USA where people enjoy this holiday with family by going for picnic, concerts, etc. The Independence Day parade and the firework shows as the chief attraction for the day. But the most exiting faces are the children who do lots of things like dressing up patriotically, enjoying candies and sweets, designing US flags and decorating the house for full day celebration.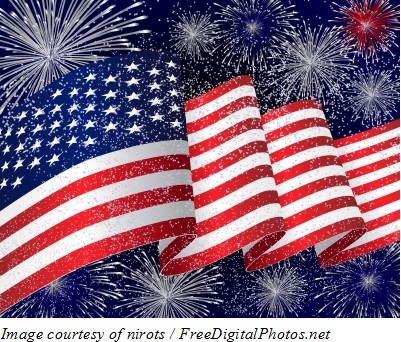 It is the birthday celebration having national importance, so the celebration has also to be a grand one! It is the best time to book short trips for the family, attend the public speeches of political leaders etc. There are various ways to celebrate this festive day. Some traditional methods include celebrating picnic, getting creative and making dishes for your family.
Here are 4 amazing ideas to celebrate this day with happiness, contentment and joy:
Be Creative Independence Day is the day to be proud of our political leaders. We can also commemorate this day by being creative. You can enjoy interesting activities like making flag, greeting cards, and decorative lamps and also try new recipes apart from traditional barbeques. This will help you in celebrating in lot more innovative way.
Know About Independence The celebration of independence must be a grand one but one should remember its history and origins. It's important for every child to know the past importance of this great day. Books like Steps to independence and Independence Day are very useful to teach young ones about the importance of this day and of independence. Buy these books now!
It's a Holiday It's the best time for planning short trips. Since it's the national holiday you must enjoy leave before getting back to your work again. Groupon.com has some amazing deals of hotels, spas and resorts to enjoy in California. Check them out now! Hurry up! Deals are available for limited time only!
Go for Shopping Many stores and online shopping websites offers special cash back offers and coupons for the 4th of July sale. Shop and save on these deals. If you want to add something new to your house which enhances its decor you can find amazing deals on home decor, appliances, patio furniture, LED televisions, Laptops etc. Avail these deals and more on offers.com and buy them now! Instant Cash Advances are very useful to get money instantly for your purchases.
Celebrate Independence day and enjoy the day with delight!