Financial emergencies can strike anyone at any time. Unexpected financial burdens can be overwhelming, whether it's a broken air conditioning unit during the summer heat or a sudden medical expense. For individuals with disabilities, these challenges may come with additional expenses related to specialized equipment or healthcare needs. However, in these times, payday loans can provide the much-needed help to overcome these financial obstacles. Individuals with disabilities can access the immediate cash they require to meet their urgent expenses and regain financial stability by understanding the benefits and considerations associated with payday loans.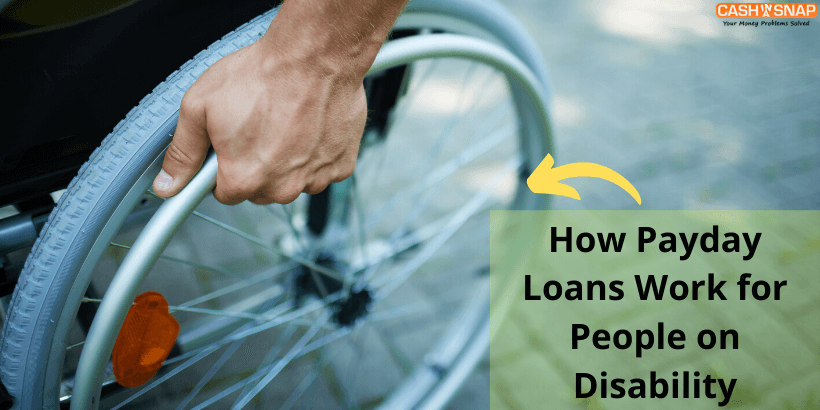 Can Individuals on Disability Obtain Payday Loans?
A common misconception is that individuals receiving disability payments are ineligible for payday loans. However, in certain cases, those who rely on disability payments as their primary income source may qualify for such loans. The key determining factor lies in having a dependable monthly income stream, which can potentially make individuals with disability eligible for payday loans.
Important Considerations When Applying for Payday Loans While on Disability
It is crucial to exercise caution when applying for an online payday loan, as unscrupulous individuals often target those with disabilities. It is essential to remember the following:
1. Avoid engaging with unsolicited phone calls offering loans. Legitimate companies do not typically reach out directly in such a manner. Moreover, never make any upfront payments for loan purposes, as this clearly indicates a scam attempt.
2. When connected to a lender and pre-qualified for a loan, it is vital to inquire about all the terms and conditions. The lender may request proof of ongoing disability income and other relevant information.
3. It is important to understand that qualifying for a loan and receiving an offer does not obligate you to accept it. If the associated costs and repayment terms are not satisfactory, it is within your right to decline the loan offer.
4. Before accepting a loan, ensure that you can comfortably repay it according to the schedule provided by the lender. This assessment is crucial to avoid any potential financial strain or difficulties.
5. It is essential to know that cash advance loan regulations vary among states, and some states prohibit them altogether. Therefore, it is advisable to consult your state's laws regarding these loans.
Obtaining an online cash advance remains relatively simple and uncomplicated, regardless of whether the borrower has a disability. To qualify for a payday loan, you must fulfill the following criteria:
You must be at least 18, adhering to the legal age restriction for financial transactions.
You must have an active bank account for the loan transaction and repayment process. It allows for the direct deposit of funds and facilitates loan repayment through electronic means.
You must have proof of income. This demonstrates your ability to repay the loan and helps the lender assess your financial stability.
While the process does not differ significantly for individuals with disabilities, it is crucial to ensure compliance with these prerequisites to increase the chances of loan approval. By fulfilling these requirements and choosing a reliable payday lender, you can confidently apply for a payday loan.
Choose a Reliable Payday Lender
CashinaSnap is a trusted platform that connects individuals, including those with disabilities, to reliable lenders who specialize in providing payday loans. Gain access to the immediate cash you require to overcome financial obstacles and regain stability. Get started now with us!
Related posts: