Everyone can face a money emergency in their lives. It happens all the time. A sudden problem can occur like the air conditioning breaks in the heat of summer (or in the winter), an unexpected medical bill to pay, and so on. As a person with a disability, you may need urgent cash to meet these expenses. However, there are payday loans that can help you overcome your financial emergencies.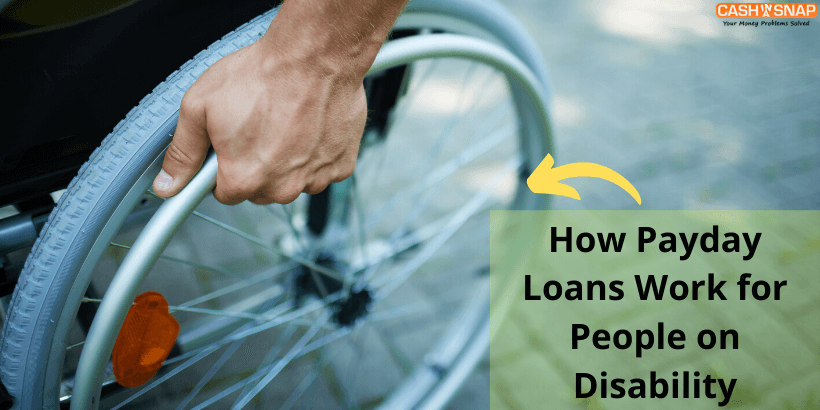 Can I Get a Payday Loan If I am on Disability?
Not everyone qualifies for an online cash advance loan on disability payments. Most people assume if they are on disability they will not qualify for a payday loan. However, in some cases, people who are receiving disability payments as their primary income source may qualify for an online payday loan. Why? This is because, if you have a reliable source of monthly income, you may qualify for payday loans.
Things to Remember While Applying for Payday Loans on Disability
You have to be careful while applying for an online payday loan because there are some unethical people out there who specifically target those with disabilities.
Never, ever talk to phone callers who are directly calling you to provide you a loan.
Even more importantly, never pay anything "up front" for any kind of loan.
These are always 100% SCAMS. They use the names of legitimate companies but are just trying to steal your money.
If you apply for a loan and are connected to a lender, i.e., you are pre-qualified, and the lender is interested in lending to you, be sure to ask them about all the terms and conditions of your loan.
They will ask for proof of your ongoing disability income source and some other information.
Remember that even if you qualify and a lender wants to provide the loan, you are under no obligation to accept that loan.
If you are not comfortable with the costs and repayment terms, you should not accept the loan.
Always be sure you can pay back your loan on the schedule provided to you by your lender before you agree to take the loan.
When applying online, you'll simply need to state your source of income and the amount you receive each month.
Every state has different laws related to cash advance loans, and some states do not allow them. Be sure to check your state laws (you can easily find them online).
The process of getting an online cash advance is simple and straightforward. Generally, there are not many differences in how the process works for borrowers with or without a disability. You still must be:
At least 18 years of age
Have a current bank account
Provide proof of your income even if it is a disability check
Choose a Reliable Payday Lender
One of the best ways to save time and increase your chances of securing a cash advance loan is to request online with CashinaSnap.com. We are a leading referral source for a large number of payday lenders, which means you have much greater odds of getting matched to a lender who wants your business.
Related posts: