What do you do when you have bad credit and need a quick cash loan? The answer is usually you can't get a quick loan with bad credit, but this is not true for most people. You can get online payday loans even if you have bad credit. Traditional lenders want you to have a pretty good track record with no defaults and mostly on-time payments. Banks and even credit unions won't consider your application if you have had some credit problems in the last several years.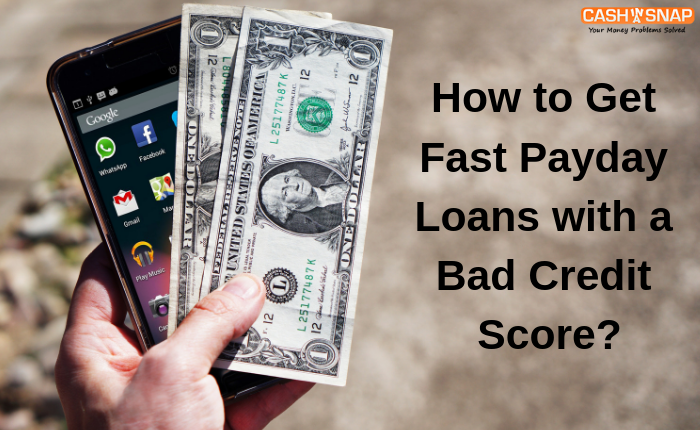 Loans Using Your Assets
If you have some assets, for example, a relatively newer car, you can get a quick loan by using it as collateral for a loan. A home mortgage is another example if you have equity in the home. However, most states do not allow auto title loans and the risk you take is high. The interest rates aren't too bad, but if you miss a payment, they can take your car away. If it is your only transportation to work, you can't afford to take that risk.
Credit Cards - Secured
Credit cards that are secured or based on past good credit may allow you to access quick loans even with poor credit. If you have made a deposit, you can get a secured credit card. The credit limit usually is around 70 of the value of the fixed deposit. Of course, if you can make the deposit, you probably don't need a quick, small cash loan either and you avoid double fees, card fees and loan fees.
Salary Advances/Payday Loans
There are lending companies that offer up to 50% of your monthly salary in advance to meet your immediate cash needs. These companies do not consider credit score as a critical factor when lending. The process is very quick, and the cash is deposited directly into your bank account after your request is approved. Most of these lenders deposit your approved loan in one (1) business day (holidays and weekends do not apply).
These loans are often called payday loans, and they usually are $100-$1,000. They are 'fee-based' loans. In other words, there is a set fee for the loan, e.g., $70 for a $350 loan and the loan and fees usually are to be paid back in full on your next paycheck. The critical issue is you must be sure you can pay it back on the terms agreed to when you get the online payday loan. The penalties and additional fees can be high.
You don't want to go from one emergency situation to an even worse one where you are getting buried in penalties and fees. Be sure you agree with and can meet the terms and conditions of any payday loan.
In need of emergency cash? Apply for online payday loans!