Emergencies can happen at any point, and medical emergencies often require an immediate course of action. This also means you may require instant cash to pay your bills. Moreover, if you are already going through a financial crisis, you may want to apply for a quick loan to get money. However, most traditional loans require a lot of paperwork before being processed. This is where a faxless payday loan can come to your rescue.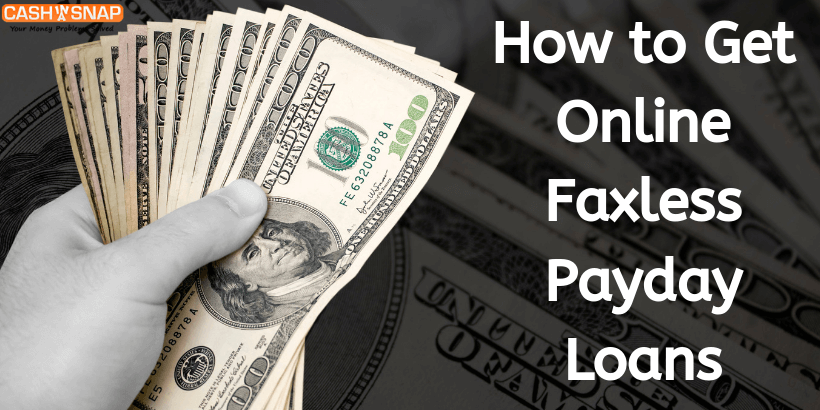 What Are Faxless Payday Loans?
Faxless payday loans are a form of loan that allows you to obtain funds without any documentation or faxing. Because they are so simple to obtain, these loans are becoming increasingly popular. The money is normally transferred within 24 hours, and no credit check is necessary.
How Do Faxless Payday Loans Work?
You have to simply fill out an online form on our website with your basic personal details, such as contact number, address, and email, along with the loan amount you need. Your lender will directly contact you if any other document is needed. Once your eligibility is proven, the loan approval decision will be made instantly, and the required funds will be transferred into your account the next business day.
Requirements of Faxless Payday Loans
To get qualified for a payday loan with no faxing, you must:
Be a resident of US
Be 18 years of age
Have an open and active checking account to receive funds
Have a steady source of income to make repayments on time
Submit your payslip
Have a valid phone number and email address
Not be an active member of the military or a dependent of an active member of the military
How to Apply for Online Payday Loans with No Faxing
You can apply for faxless payday loans online or through your mobile phone. Complete the online loan request form with the necessary details. You can receive funds directly into your checking account as soon as your loan request is approved. Like traditional bank loans, you do not have to wait several days for faxless payday loans to be processed.
Benefits of Faxless Payday Loans
Faxless payday loans provide substantial benefits to borrowers.
One of the greatest advantages is that you are able to apply for a loan from your comfort zone.
Whenever you need immediate funds, you can apply for the loan and get funds into your checking account the next business day.
These loans provide you a flexible loan repayment period. You can repay these loans at the end of the month or your next pay date.
Getting approved for a faxless payday loan is easy and simple. If borrowers have a bank account, can meet the loan requirements, and verify their source of income, they can be approved on the same day and get their funds as soon as the next business day.
You can use these faxless online payday loans to cover your emergency expenses such as medical bills, car repairs, and in situations when you need funds quickly.\
How Cash in a Snap Can Help You Get Payday Loans with No Fax?
From $100 to $1000, Cash in a Snap has fulfilled more than 1 million such payday loan requests helping people when they are in dire need of money. With our simple, safe, fast, transparent, and convenient process, you can apply for payday online without faxing or documentation. Our broad network of lenders works 24x7 to resolve all your issues.
Looking for an instant cash advance to get through your financial emergency? Request for faxless payday loans. We ensure quick loan processing and funds transfer.