Payday loans provide you immediate access to cash when you want to solve your financial emergencies such as unexpected medical bills, car repairs or more. Guaranteed payday loans offer more flexibility than traditional bank loans.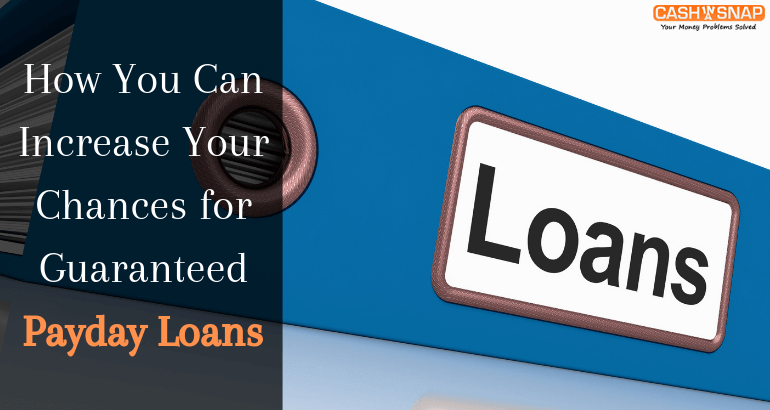 The following tips will help you increase your chances of being qualified for a guaranteed payday loan.
Keep Your Necessary Documents Ready
Regardless of the type of the loan you apply for, you must have certain documents to assess if you are qualified which include your Social Security number, identification, and recent paycheck if you are applying for a payday loan.
Also, you will need to prove that you have a stable source of income to repay your loan amount on time and you must be a US citizen. You should have your checkbook ready, and at times, you may be asked to show your bank statements too.
Keep Your Credit Score in Check
Credit scores are not a factor that is taken into consideration for guaranteed payday loans, but it is still good to have a decent credit score. You can increase your loan approval chances for a guaranteed payday loan by maintaining a good credit score. Make sure you contact reliable and trustworthy lenders for your cash advance loans.
Know the Restrictions of Guaranteed Payday Loans
Many payday loan lenders have some restrictions on the minimum and maximum amount you can borrow. Before applying for a loan, determine how much money you will need and whether your lender offers the same amount or not.
The maximum and minimum lending limits vary depending on the lender but do not borrow more than what you need, as repaying the loan amount will be difficult for you. Your monthly income determines how much you can get so having a steady source of income is an important factor for payday loan approval. Explain to your lender how much money you will need and what the expenses you are going to cover with the loan.
Always Be Prepared!
Having everything ready with you will increase your odds for guaranteed payday loans. With a good credit score and necessary documents, you will have no problems in receiving the cash you need to solve your financial emergencies.
Are you looking for guaranteed payday loans? Apply now!