There are many ways to get money fast and escape a financial emergency. There are several options available, and you can decide to use more than one depending on your situation.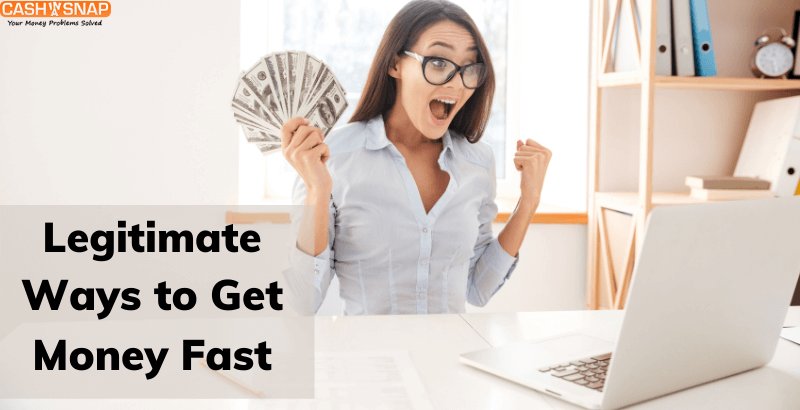 Here are some of the fastest ones that you may consider:
14 Ways to Get Money Fast:
Ask a friend or family member for a loan
Become an Uber or Lyft Driver
Sell some of your stuff online
Do grocery delivery
Pet sitting
Get a cash advance
Get a payday loan
Use online services like Survey Junkie, InboxDollars, Rakuten, Instacart, and Swagbucks.
Do online tutoring
Become a virtual bookkeeper (if you have the training in accounting)
Get an emergency payday loan
Sell items you do not need like old cell phones or computers or clothing, etc
Get a second job with flexible work schedules
Host a garage sale
Some Proven Fastest Ways to Get Money
Sell an old cell phone or computer
These have reasonable market value and usually sell fast for cash.
Take out a cash advance
You can get a cash advance from any of your credit cards as long as there is an open balance.
This is one of the fastest ways to get cash, often in just one business day, provided you are approved. Fee-based loans, though not cheap, are a very quick way to get emergency cash.
Have a garage sale.
If you have enough stuff, you can put an ad in Craigslist or similar places and sell almost any kind of goods. Clothing and small appliances and even knick-knacks sell fast. You can generate $100 to $200 or more if your goods are priced right.
Four More Ways to Get Money Fast
Join Uber or Lyft as a Driver
If you have a reliable car, you can drive for one or both of these services, and you can pick the days and times you would be able to drive. It is a very flexible way to earn money fast.
Sell your stuff online
If you have valuables of any kind, e.g., small appliances, yard gear, etc. you can sell it on Craigslist and other services. Be sure your pricing is not too high. You can look at other ads with similar products to check.
Deliver groceries or food
Like Uber/Lyft, you shop for groceries someone has ordered and deliver them to their home or apartment. You can start almost immediately. As with the driver options, having a reliable car is a must.
Pet sitting
There is a lot of demand for pet sitters who are reliable and trustworthy. It can pay well. Know that your background will likely be checked before you start, as such services usually require committed employees. If you love animals, it can be a great way to make money and still have some flexibility in your schedule.
Apps That Help You Get Money Fast
InboxDollars
InboxDollars pays you for several services. These include completing surveys, reading emails, and watching product videos. One advantage is you earn cash instead of points. You also get $5 for signing up.
Swagbucks
With this app, you can watch videos, take surveys, play games, and even shop online. You earn money for any tasks you do, and the amount will vary depending on the task. One feature is there are no caps on your earnings. You are paid in points that you can redeem for cash or gift cards.
Rakuten
Rakuten is one of the largest platforms for getting cashback for your online purchases. There are 2,500 stores on their app, and you get rebates for shopping at any of them. Rebates vary depending on the store and can also change at any time. You also get $10for signing up.
Instacart
Instacart pays you to do grocery shopping and deliver the groceries. You can start earning money immediately. You get paid based upon the size of the order and the average miles you drive. Of course, if you are a fast and efficient shopper, you will also earn more as you can process more orders than others. You can also earn tips, which many services do not allow.
Survey Junkie
Survey Junkie pays you to take surveys. You create your profile and review the products and services that you select and are familiar with. So, you do not have to take surveys on odd services or products. After you complete a survey, you earn your rewards. You redeem your rewards for money through PayPal or gift cards.
Three Best Ways to Get Money Fast By Working from Home
Online tutoring – if you know any topic well, there is probably a way you can provide instruction to others and make money doing it.
Online bookkeeping– requires some knowledge of accounting, so it is not for everyone, but it can be very profitable for those who can do it.
Virtual Assistant – setting appointments, taking calls, etc. and get paid on an hourly basis. Most virtual assistants earn far above the minimum wage.
FAQs
What Are Personal Loans?
A personal loan, often called an installment loan, can be used in many ways, including consolidating debt, making a large purchase, or financing your home remodel. It is deposited directly into your bank account and paid back, with interest, at a fixed interest rate. However, the interest rates are typically far more than most credit cards so consider a credit card advance first depending on the rate.
What Is a Cash Advance?
A cash advance is when you take a loan against your credit card. To do so, you must have an open (unused) balance on your card. There is often a limit on how much cash you can take, and many card companies increase your fees and interest rate for cash advances. Be sure to check before taking out a cash advance as a personal loan could have lower costs.
What Is a Payday Loan?
Payday loans are short term loans that are fee-based and paid back on your next pay date or within 30 days in almost all cases. They are unsecured and easy to qualify for and only take a few minutes to request from a smartphone. Each state has different restrictions and laws regarding these loans, so check your state website if you want to know the maximum loan amount allowed, fee maximums, etc. Most states allow payday loans and restrict the maximum loan to $500 or less; however, there are a few exceptions.