You might be inclined to believe that in-store payday loans and online payday loans are almost the same, but they are not. Derived from the same payday loan, both in-store and online payday loans offer you an easy means to get quick cash but with contrasting experiences. Actually, both services have some common as well as a few uncommon features in addition to benefits and pitfalls.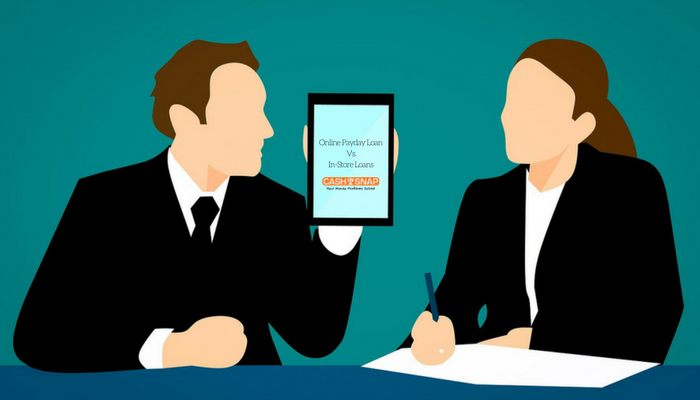 Major Differences
Online payday loan services are ideal for someone in need of extra cash, but consider visiting a store inconvenient or troublesome. Nevertheless, the in-store option is the most popular and also primary form of payday loan transactions that lets you receive your money in person at a store location.
You get to receive your fast cash in person when you to visit a store for a payday loan. The process usually takes around 10-15 minutes and you can obtain the money you require on-the-spot. Whereas, an online payday loan provides you the flexibility of a complete online payday loan processing, without the requirement of any store visit. After submitting an online loan application, the approved funds are deposited straightaway into your bank account within the same day.
Online Vs. In-Store Support
At a storefront, you are able to interact with a lender and get your queries resolved directly regarding the terms and conditions of the loan. Having someone to talk to is very helpful in case you are not able to interpret the information. A few lenders can even provide you with cash the very same day.
Online loans can prove to be an easier and quicker way to obtain the cash you need to meet your expenses. However, you don't get the opportunity to interact face to face with a lender and don't get direct prompt answers to your queries as you go further in the application. Therefore, you'll want to ensure that the lender's website distinctly informs your obligations and that there's a helpline in case you can't interpret information.
Online Lending Brokers Vs. Direct Lenders
It's essential and crucial to know whether the company you're dealing with is a direct lender or a broker before applying online. A direct lender enables you to apply to and obtain funding directly from a particular company, mostly with the feasibility to inquire to a representative in case of a problem.
An online lending broker helps you in applying to an establishment that further uses your data to help you choose a lender, willing to provide a loan that suits your needs. Lending brokers are effective because they can usually tally you with lenders that may not be normally within your reach. You should ensure to go through the fine print to avoid any data fraud later.
Online Payday Loan Vs. In-Store Loans
Payday loan's in-store services have secured faith in the customers because the store associates provide the customers, a sense of contentment indirect interaction. Online payday loans are treated much quicker than in-store payday loans due to the lesser involvement of workforce in the application process.
Numerous in-store payday loan services necessitate you to furnish pay receipt, checkbook statements, and citations. Online lenders are responsible to manage all the groundwork for you. Thus, relieving you of searching for your missing pay stubs, checks, etc. and later themselves confirm the information you provide.
Payday loan's online services only request you to provide them with different types of information including your bank account, job location, and more in contrast to the in-store services that may demand you to fax this data to them.
Although several customers research online for information regarding payday loans, they are less apt to consider an online loan due to the limited information available on the website. In-store payday service allows you to approach the store associates easily for getting all your queries resolved.
A lot of people prefer to browse diverse stores personally in order to study the product prior to acquiring one. This is because they are more prone to purchasing a product or service, only upon viewing it in person than online.
Online payday loans offer you the time and flexibility to apply for a loan as per your comfort but in-store payday loans let you request for a loan only during standard business hours.
Also Read: Online Payday Loans: An Instant Boon For Borrowers