Payday loans or cash advances are a type of short-term lending that allows you some surplus cash before your payday. They are a secure and convenient means to let you extend your buying power and help you meet small, unplanned expenses. Payday loans have several benefits over other forms of credits.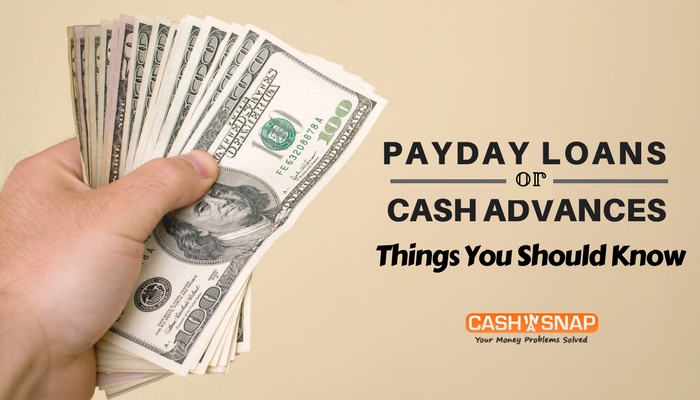 Here a few frequently asked questions on payday loans:
Do Cash Advances and Payday Loans Have Unreasonably High-Interest Rates? No, the interest rates on cash advances and payday loans are not unreasonably high. The nature of the cash advances or payday loans contributes to the high-interest rates.
These loans are configured to provide emergency cash, so they require instant approval. For this reason, the direct lenders skip the credit checks and omit collateral for your loan. Since the lenders do not possess the required facts of your overall financial position, they have less security. Moreover, these kinds of loans have the maximum rate of defaulters in the financial industry. The higher risk constitutes higher rates. Additionally, due to the short turnaround of such loan, it's essential for the lender to earn a profit on the loan in a brief period of time, as the interest is being paid for just a couple of days or weeks.
You won't be adversely affected by the high payday loan rates as long as you:
Use the payday loan judiciously
Borrow exactly the amount you need
Repay the loan timely
Why Can't Cash Advance Customers Just Go to a Bank Instead? Requesting a cash advance is simpler than applying for cash loans from a bank. The incredibly faster option for a cash advance online application gives it an edge over bank loans that can take weeks to get through. The process is completed within a few minutes, and the borrower receives advanced cash the same day, even with a bad credit rating, much quicker than with traditional loans.
Also, banks prefer to disburse a big amount of money. So, if you simply require an emergency fund, worth a few hundred dollars to survive until your upcoming payday then banks may not be keen on lending to you.
Do Payday Loans Lure Borrowers in a Never-Ending "Cycle of Debt?" In the absence of any statistical evidence, the 'cycle of debt' argument, often included in passing legislation while opposing payday lending, does not hold any significance. A big majority of Americans, evidently, use payday advances judiciously and, as planned, for short-term use. Reports by state regulator and public company submissions, confirm the fact that timely repayment of payday advances greater than 90 percent are done and more than 95 percent are finally collected.
Do Payday Loans and Cash Advance Lenders Target Unsophisticated Customers? It's a misconception that payday loans are predatory, stemming from the idea of the borrower being incapable of a repayment. Because many payday lenders hardly earn $2 of profit from a loan, it is difficult to think that such fast cash would be loaned to anyone incapable of a repayment.
Payday advance customers are normal hardworking adults who may be devoid of any savings or expendable income to use as a security blanket when unexpected costs occur. In addition to a fixed source of income, 100% of these customers have a bank account.
According to some payday loan demographics studies:
Majority earn between $25,000 and $50,000.
90% have secured a high school diploma or more.
54% have certain college or degree.
53% are less than 45 years old (only 9%are 65 or over)
Majority are married
63 % have children in the household
32 percent own homes
54 percent have major credit cards
Is the Cash Advance Industry Regulated? A large number of states have opted to meet consumer requirement for payday advances with stable, liable regulation for their constituents. Payday advance laws usually govern the transaction terms and demand certain consumer protections.
State regulators guarantee that lenders are complying with the laws and regulations that regulate the payday advance service through stringent monitoring and imposition activity.
Under statutory control, state regulators have comprehensive discretionary power and may enforce new licensing demands, interpret or implement existing regulatory responsibilities in different modes, or generate new administrative rules.
In several states, payday lenders have to compulsorily apply for a license, record periodic written reports about business operations, and receive comprehensive state audits and investigations to ensure conformity with relevant consumer protection and other laws.