Online shopping needs no introduction today. The popularity it has gained over the last few years is seen in the number of people choosing to shop online. The wide range of goods available without having to physically travel to different brick and mortar stores and these being available at lower prices are enough reasons to make online shopping the first choice of consumers.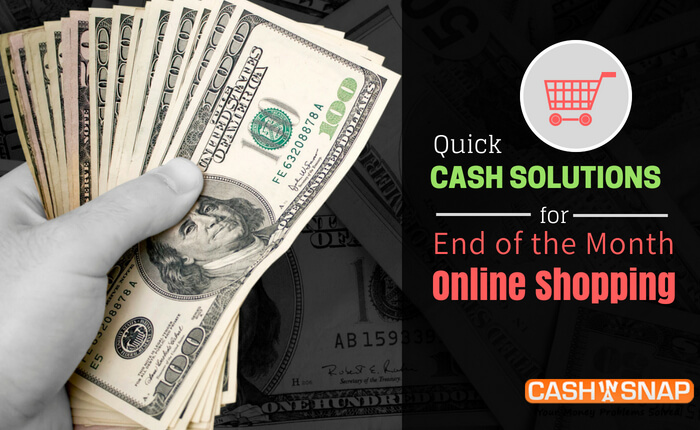 The ease of shopping has gone to the next level with many companies having introduced apps for the convenience of buyers. The biggest factor that has been instrumental in people choosing the option of online shopping over conventional shopping is the discounts offered by these merchants. End of the season or a special occasion sees even more special discounts that are too hard to resist.
When Do You Need Quick Cash Solutions? There may be times when you see something online that you've been planning to buy for a while now, available at a rock-bottom price, but you have to let it go. Probably because it's nearing the end of the month and most of your money is spent in paying off the bills and other expenses. It happens with most of us. Quick cash solutions could be the answer in such a situation.
Here are some of the ways to get quick cash for your end of the month online shopping:
Get Quick Payday Loans Payday loans can ensure you being able to take advantage of these lucrative online offers.
This quick cash advance in most cases has an approval process requiring minimum paperwork, and cash is wired to your checking account the next business day.
Most companies have an easy online payday loan application process and flexible payment terms, the only requirement being that the loan has to be paid back by the next payday, which is upon receiving the next paycheck.
Sell Your Unused Stuff Sell the items that you don't use anymore and are of some value. Sell them online on websites such as Craigslist and eBay which will offer you a reasonable price for a quality item. You can also consider virtual auctions or specialty stores.
Find an Additional Source of Income Take a part-time job even if they are paying low. Offer your skills to your family and friends. Let other people know that you are available for a quick service. You will make quick and easy money if you find enough work.
Rent Your Room Getting a roommate will help you make hundreds of dollars every month. You have to make a little sacrifice and change your lifestyle when you are considering this option. However, you will be able to bring some extra cash each month.
With its several benefits, quick payday loans could be the answer to your end of the month requirement of cash. Apply now and get the quick cash you need.