Not all short-term credit loans are dangerous. There are some like bad credit online loans or payday loans that can help you cover cash shortfalls and unexpected expenses. One dangerous form of loans is auto title loans.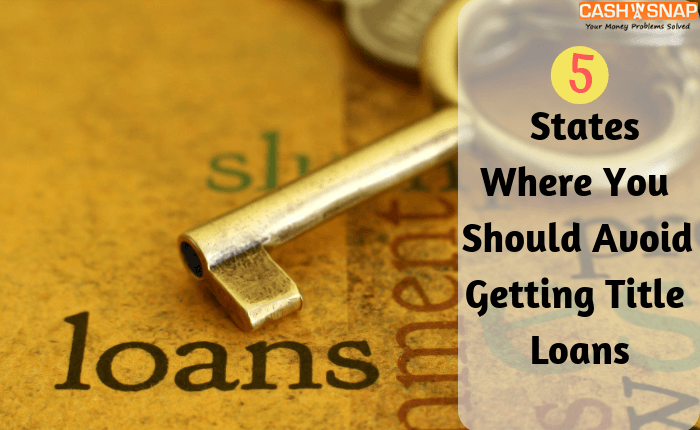 Auto title loans are secured by the title to your automobile. This means that failing to pay the loan back will almost certainly result in your vehicle being repossessed. In many states, title loans have higher interest rates than online payday loans. This can leave you, the borrower, in a very bad position financially.
Auto title loans are illegal in some states. However, they are permitted in many, and they can put borrowers in a cycle of high-interest debt if the borrower is not fully aware of the terms and conditions they are agreeing to.
Here are some states where you may want to avoid getting an auto title loan:
Alabama
Alabama is home to many auto title lenders. There are no restrictions on maximum loan limits, and annual rates can be as high as 30%. Alabama auto title lenders make more than $356 million each year.
The state also has more auto title loan locations than any other state in the country.
Auto title lenders are classified as pawnbrokers, which means that their loans are subject to the state's pawn laws. This means that their auto title loans are for an initial 30-day term with a maximum interest rate of 2% per month. Lenders can keep all the proceeds from the sale of a repossessed vehicle. If you fail to make your payments by the deadline, you could lose your car and get nothing for it, even if you made quite a few payments previously.
Mississippi
There may not be nearly as many auto title lending locations in Mississippi, but auto title lenders make more than $297 million per year.
Auto title lending was expanded in 2016 to allow check-cashing stores and payday lenders to offer auto title loans. According to lending associations, there are 73,867 title loans issued each year which equates to 208 loans per lending location.
There is a maximum loan amount of $2,500 and a maximum interest rate of 25% per month—or 300% for a full year.
Auto title loans are provided with a 30-day repayment term, and the borrower can renew their loan term for another 30 days if they pay 10% of their principal amount owed.
The state accounts for almost half of payday loan and auto title loan fees charged nationwide. In total, over $526 million in annual payday and auto title fees is paid by borrowers.
Georgia
Auto title lenders can charge a 25 percent monthly interest rate on a loan. They are limited to the first 3 months when the loan is outstanding.
These auto title loans come with 30-day repayment terms, and the loan term can be extended. After 3 months, the monthly interest rate lenders charge is cut in half, with a maximum rate of 12.5% per month or an annual rate of 187.5%.
This is lower than 300% you might see on auto title loans in Alabama and Mississippi. However, if you got an auto title loan for $1,000, you would be paying $1,875 in interest charges if you rolled it over for a full year.
There is also the possibility of repossession. Lenders must observe a 30-day grace period between when they repossess a vehicle and when the outstanding balance can be repaid, but you can be charged a $250 fee for the repossession.
Texas
Auto title lenders are limited to a 10% monthly interest rate. This equates to an annual rate of 120%.
However, even though there is an interest rate limit, there is no limit to the amount of money you can be charged in additional fees. As a result, some auto title loans in the state have APRs as high as 1,000%!
There are no restrictions on how many times an auto title loan can be rolled over and extended.
Auto title loan fees are more than $432 million each year. Texas is one of the largest title lending states in the country.
Virginia
Auto title loans in Virginia have interest rates between 180% and 260%. With a minimum loan term of 4 months, a maximum term of one year, the rates can really add up.
If you took out a $500 auto title loan, you would pay a minimum of $440 in interest and a maximum of $1,320!
No matter what you do or where you live or go to get emergency cash, do your homework and know the interest rates or fees and other terms you are agreeing to – before you get the loan. Sometimes a quick online payday loan is a good option if you are sure you can repay it on your next pay date. Although the fees are high, you don't have to worry about long term rates if you pay it back on time.