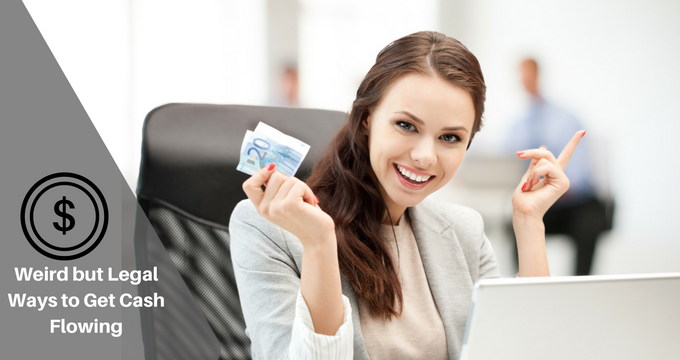 Do you want to make some extra money? Are you tired of selling old items or offering odd jobs to your neighbors? There are many easy ways to make money. You just have to be creative whenever you are short on cash.
Here is a list of weird but legal ways to make some extra money:
Turn Off Your Lights and Get Paid
If you are in California, you can sign up for a program called OhmConnect and sync your online utility account with it. You must have your utility account with any one of these companies- Pacific Gas & Electric Company, San Diego Gas & Electric or Southern California Edison. You will receive weekly and yearly payments for reducing your electricity consumption.
Watch YouTube Videos
You can actually be paid by Swagbucks to watch videos online. These videos are sponsored and every time you watch one of these videos, your account will be credited with cash.
Don't Delete Your Emails
Deleting your emails can cost you money! Yes, don't delete your emails and get refunds on your online purchases. Sign up for Paribus and after that, your email will be scanned for receipts from Amazon, Target or other retailers listed on its website. You will get a refund if there is a price drop on the items you purchased from these retailers.
Search the Internet
You will be paid by Bing every time you will search on your computer or mobile. Sign up for Bing Rewards, it is free and will help you earn passive income. It's easy as you just have to set and forget it.
Stay in Bed and Earn Money
Participate in a NASA bed rest study and earn money. You just have to lie in bed and allow the researchers to perform tests on your body. You must be in good physical and mental health to become a test subject for NASA.
Become an Uber Contractor
Do you enjoy taking trips and finding routes across town? You can make money by doing this! Become an Uber driver, make your own schedule and earn money. You just have to fulfill some of the required criteria to give it a try.
Install Mobile Apps
They are many companies that will pay you if you will install their apps on your mobile phone. You will receive money every month if you will keep them installed. This will help companies collect data and understand mobile usage.
Mad for Money
Political polling companies will pay you to rant if you participate in the election campaign. You can easily make extra money by participating in the surveys. You can get a buck or two and sometimes up to $95 for some of the top-end surveys.
Get Paid for Playing Games
Are you a game addict? Use your gaming addiction to earn money! Play games and get paid in cash, free rent, sponsorships and living expenses. Professional eSports players are considered professional athletes in the US.
Save and Invest to Earn More
Save money to earn more! Stash is an app that gives you $5 bonus if you invest. Start investing even if you don't have a lot of money. Download the Stash app and get the bonus added to your account within two business days.
What is the weirdest thing you have done to earn extra money?