Healthcare expenses have soared dramatically in America over the last few decades. As per the Centers for Medicare and Medicaid Services, healthcare expenses reached almost $4.3 trillion in 2021. It is estimated that this figure will reach $6.8 trillion by 2030.
The same report also states that by 2028, healthcare spending per person will be approximately $18,000 per person!
Arranging for these emergency expenses is a matter of grave concern for all Americans, and knowing the reasons for this rise can help you take the right measures to save yourself from paying such high costs.\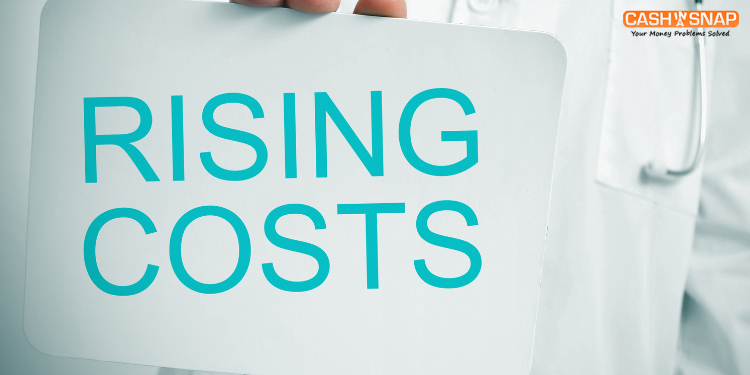 Reasons Why Healthcare Costs are Rising in the U.S.
The above statistics stand as evidence of the reality of the rising costs of healthcare in the US. Here are some of the reasons contributing to these soaring expenses:
Increase in chronic illnesses – As per a report published by the Centers for Disease Control and Prevention - "90% of USA's $4.1 trillion annual healthcare expenditures are for people with chronic and mental health conditions". Along with diabetes, other ailments in this category include high blood pressure, lower back and neck pain, urinary disease, high cholesterol, osteoarthritis, depression, and so on.

Increased ambulatory expenses – The charges for outpatient hospital services, along with ambulatory services and emergency room care services, have increased by ridiculous proportions.

Increasing health insurance premiums along with Medicare and Medicaid – The increasing medical costs have a direct effect on health insurance costs. So, it is no surprise that health insurance policies, regardless of whether they are provided by the employer or not, have also risen exponentially.

Medicaid and Medicare are government programs offering medical services to US citizens. With the increased demand for these services, their prices have risen greatly.

Greater out-of-pocket expenses – Along with increased health insurance premiums, Americans are paying for high-deductible health plans. The premium is for the whole family, but the amount is a huge one, thereby increasing healthcare costs.

Patients avoiding medical treatment due to COVID and increasing costs – It is a general problem that sees many patients refraining from getting medical treatment because of the huge costs involved. COVID-19 has also caused treatment delays or suspensions for many people. When a person with a serious health condition chooses not to undergo treatment, chances are high that the delay will make the treatment more expensive later.

Lack of transparency and inefficiency – Because of lack of transparency and inefficiency, it is not possible to know the actual cost of healthcare.
The No Surprises Act and The American Rescue Plan
The American Rescue Plan (ARP) included provisions for additional healthcare cost containment and was signed by President Biden in 2021. On the other hand, the No Surprises Act is additional legislation that protects against surprise billing. This act went into effect in January 2022. With these two acts, the government hopes to cut down healthcare costs in the future.
The Bottom Line
Healthcare costs have increased incredibly, and even with insurance, it sometimes becomes difficult to cough up money for emergency treatments. The government is attempting to reduce costs in the future. Furthermore, you can cover an emergency medical expense by applying for a payday loan online.
Cover Your Medical Costs with Payday Loans at CashinaSnap!
For handling sudden medical emergencies, payday loans are, indeed, a great option. With these easily available online loans, you can pay your medical bill and undergo immediate treatment. CashinaSnap can be your one-stop destination for any kind of emergency payday loan. Apply today and get connected to one of the lenders from our wide network according to your requirements. We are open 365 days, 24/7!