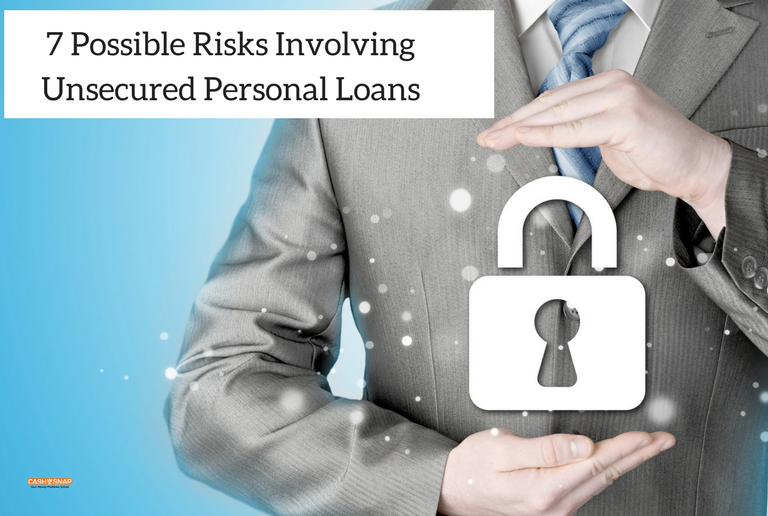 Unsecured personal are generally considered for borrowing a small amount of money. They are a fast, but also a risky way to get the needed emergency fund. If you are looking for a personal loan, make sure you protect yourself from scams and the quick money-makers that lenders often use to entice you into doing business with them.
Read to learn more about the possible risks involving unsecured personal loans:
Inflated Interest Rates

Interests rates depend mostly on your credit score, but a lender can basically choose the interest rate they charge you. As long as they remain within the law, the interest rate can be double or triple what you can find somewhere else.

Large Origination Fees

Many loans require fees to be paid prior to the money being deposited into your account. Make sure the fees aren't excessive.

Penalties for Paying Off the Loan Early

Some lending agencies frown on early pay-offs. If you are looking for an unsecured personal loan, find out if there are penalties for early pay-offs. If so, go somewhere else.

Disability Insurance

Many lenders offer disability insurance to protect you if you have an accident or can't make the payments. Avoid buying this type of insurance from an unconventional lender, ask an insurance agent for help.

Privacy Issues

Unconventional lenders may not be as strict and protective of your information than as a bank or credit union. Ask about privacy policies and whether they are enforced.

Pre-computed vs Simple Interest

Simple interest is based on what you actually owe, while pre-computed insurance is based on the original amount of the loan. Ask how interest is calculated and go with the lender that uses simple interest calculations.

Payday Loans

Payday loans work well for short-term emergencies as they don't involve credit verification. It's important to not ask for more than you can easily pay back with one paycheck.

If you are looking for an unsecured personal loan, do your research so you know you're getting what you pay for.
How Payday Loans Score Better as an Unsecured Personal Loan Option
For your urgent cash requirement below $1500, a payday loan is best the solution. Payday loans are those unsecured loans that offer a fast and simple approach to obtaining the loan without any hassles of credit checks, as long as you fulfill the loan qualification criteria. Although payday loans are acknowledged as being costly, the cost is justified by the smooth automation offered by most payday lenders in today's competitive market. You may chance upon payday lenders, offering you sound rates and approving your loans promptly, within 72 hours even with a low credit score.
Cash in a Snap is your one-stop solution to promptly securing short-term emergency cash, payday loans or personal loans with bad credit. We connect you with reliable lenders, who offer to provide you with payday loan options, in the most secure and convenient way possible.