Are you someone who has a bad credit score and needs money now? Nobody wants to be judged because they need an online payday loan or a personal loan. Your credit history will be a factor when any potential lender is reviewing your application and deciding if they will loan to you.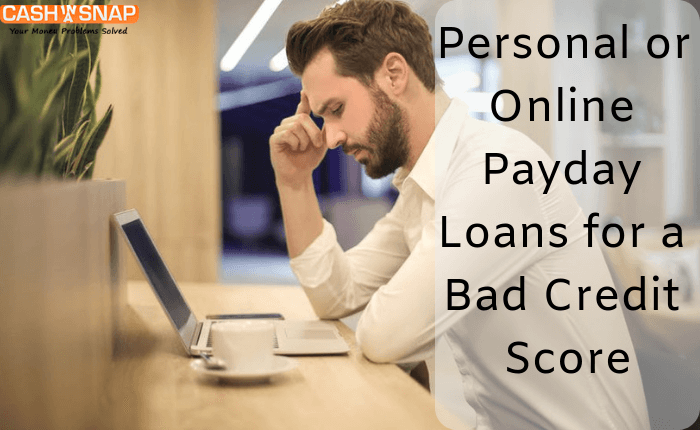 What does the lender worry about?
They want to know, before lending anyone money, how risky it is if you fail to pay back your loan. Whether it is a bank, credit union, personal loan company or payday lender, they all want to know how much risk they face with any loan they make.
The higher the amount of loan, the more risk the lender takes, that is why higher credit scores typically get better loan terms.
What Is a Personal Loan?
A personal loan is just a loan that allows more time to pay it back. It is basically a form of financial assistance offered to a borrower, so he/she can handle immediate financial needs or even basic needs. Personal loans are easy to obtain with a decent credit score and have lower interest rates.
Basic Requirements for Most Personal Loans
You should be at least 18 years old but preferably 21 years old.
You must earn a monthly income of at least $1,500 although $2,000 is recommended.
Generally, no military are accepted.
Personal Loan Advantages
No requirement to provide security or collateral for a personal loan
Less paperwork than for a traditional bank loan
Some flexibility in the terms you may be offered
The other alternative for people who do not qualify for a personal loan is an online payday loan.
What Is an Online Payday Loan?
An online payday loan is a very short-term loan which generally requires you to repay it from your next paycheck. It is a high fee loan and does not offer longer payback times like a personal loan. Fast approval (or denial) is normal with payday lenders, and you can apply for online loans for bad credit from your smartphone if you like. If you have a real emergency that requires instant cash, you can choose an online payday loan service. Getting online payday loans are generally quick and easy.
Minimum Qualifications Needed to Get Online Payday Loans
You must be above 18 years old
You need to employed
You must have a current bank account
You must earn $1,000 or more per month for the last 6 months
Advantages of Online Payday Loans
It is definitely a faster source of getting money especially in financial emergencies
It often does not require a credit report
Late fees may help your present credit profile
Independent borrowing is common, i.e., payday lenders are not banks or credit unions
How to Determine Your Loan Options
The following guideline may be helpful in determining your loan options:
Below 550 or no credit score- Most likely to get a payday loan, a few may qualify for a personal loan
550-600- either a personal loan or payday loan depending on your score
600-650- more likely to qualify for a personal loan but a payday loan is still an option
650-700- traditional loans are an option as are personal loans
700-750- this is a 'good' score, so most options are available to you
750 and higher- this is an 'excellent' credit score and you will get lower rates and longer terms and can be picky about any loan terms you are offered.
How to Get an Online Payday Loan with a Bad Credit Score
It is simple, safe and quick to apply for an online loan for bad credit from reliable, referral services like CashinaSnap.com when you need cash right away. With over 100 lenders reviewing applications, your chances of approval are increased.
There is no cost to apply and no obligation to accept a loan from any lender that offers one. And, because it is online, you get an answer right away. Applying for a bad credit payday loan is really easy.