Unfortunately, sometimes things in life do not go according to plan and you may find yourself either in low income or in unexpected debt. When this happens, you need to prioritize your payments. That is when you feel you can't pay for everything at one go, so you need to pay in order of their importance.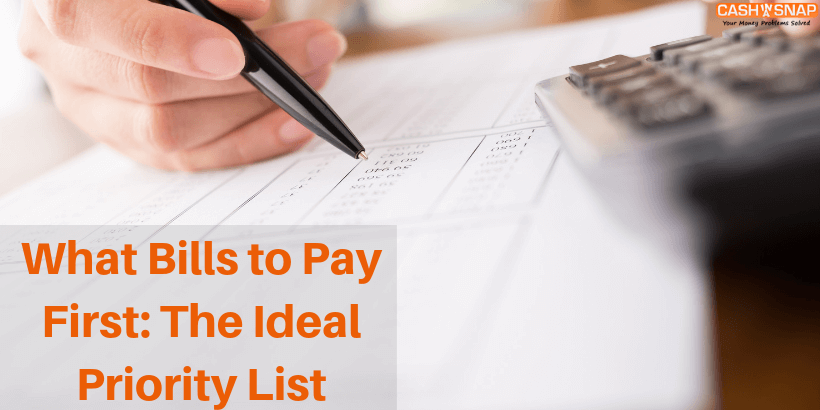 How to Rank Your Expenses According to Their Priority?
1. Provisions
It is crucial to budget for food when you are on a tight budget. Always set aside money to buy provisions first so that you and your family don't end up hungry. Make sure your grocery list consists of only necessary items and does not include highly priced items and fast food for the time being.
2. Household Needs
Apart from groceries, there are specific household necessities such as toothpaste, soap, toilet paper, laundry detergent, and numerous other things which help keep your household running. To cut costs, don't buy anything that is not essential, like a hair gel or paper towels. You can also save money by using multipurpose items, looking for discounted sales, and buying things only when they are necessary.
3. Rent or Mortgage Payment
This is also another expense where you can't afford to risk delaying a payment. Make sure your rent and mortgages are paid in time so that you don't lose your home.
4. Basic Utilities
Living without gas, electricity, or water can be very difficult or even dangerous if you have kids and older people at home because they are more susceptible to temperature changes. Pay off the utility bills first, because it will cost you a lot more to restore power if it is cut off due to late bill payment. To save money, reduce your usage of utilities by taking shorter showers and turning off the lights when not in use.
.
5. Insurance Premiums
We tend to skip insurance premiums when the budget becomes tight, but do not do this because if something like a car accident or medical emergency pop up, you will be unable to cover the expenses. Therefore, even if you are short on money, never skip your insurance premiums.
6. Car Loan Repayments
The next thing on your priority list is to keep up with car loan repayments if you have any. If you fail to pay your car loan payments, then the bank may repossess the vehicle which will not do any good for your already spoiled credit score.
7. Phone Bills
It is crucial to have an active phone connection in case of emergencies. Therefore, to save money, opt for a cheaper monthly plan for your phone. Also, consider avoiding cell phone usage for the time being if you have a landline at home.
8. Collateral Loan Repayment
If you have put your home or car as collateral, make sure to keep all the loan repayments current. In case you fail any of your collateral loan repayment, the bank can easily take possession of your home or car, making your financial situation even more difficult.

If Everything Else Fails, What Next?
Even after doing all the above, if you still struggle to manage your finances, don't hesitate to request an online payday loan of about $1,000 from CashinaSnap which will help you get through until the next paycheck comes.
Also Read: Debt Relief and Debt Settlement: How Are They Different?
Also Read: How to Start Building an Emergency Fund for Unexpected Expenses